Fund for Women and Girls seeking high school philanthropy assistants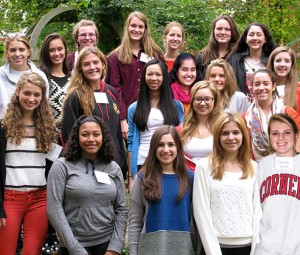 For the past nine years, the Chester County Fund for Women and Girls has given over 100 Chester County high school girls an incomparable opportunity: determining the recipients of $25,000 worth of grants.
The grant-making and education foundation is currently accepting applications for its award-winning Girls Advisory Board (GAB) program. Applications are available online atwww.ccwomenandgirls.org and will be accepted until Friday, May 30. The organization is looking for sophomore and junior high school girls who live in Chester County to participate, a news release said.
The Girls Advisory Board gives 20 local high school girls the opportunity to award $25,000 in grants to local nonprofit organizations that help girls in Chester County. During the past 10 years, GAB has awarded almost $200,000 to agencies that target the needs of women and girls, such aslow self-esteem, poverty, illiteracy, violence, homelessness, mental illness, teen pregnancy and substance abuse through innovative programs and services.
From September to December 2014, GAB members will learn about and discuss community needs, create their own grant application, review proposals, and conduct site visits. Then they will come together as a group to award grants to the organizations they feel best address the priorities identified.
Nearly every public, private and parochial high school in Chester County has been represented on GAB. Throughout the past 10 years, girls have helped the Fund for Women and Girls raise awareness of the issues girls in the community and the nation at large face daily. Additionally, the Girls Advisory Board program now has an increased focus on philanthropy in order to educate members about how they can utilize their engagement to impact social change. The GAB has received the Outstanding Youth in Philanthropy award from the Association of Fundraising Professionals' Greater Philadelphia Chapter that recognizes youth philanthropy projects such as Alex's Lemonade Stand and Youthadelphia, according to the release.
For over 17 years, the Chester County Fund for Women and Girls Fund has awarded over $2 million to 58 nonprofits. To learn more about the Chester County Fund for Women and Girls, visitwww.ccwomenandgirls.org. Contact Lisa B. Stokes, grants manager, with questions about the application process at lisa@ccwomenandgirls.org.