Overflowing Brandywine swept away some stock, but it was recovered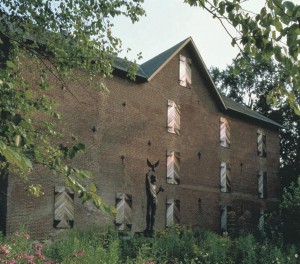 After the Brandywine Creek overflowed into the parking lots of the Brandywine Conservancy and Museum of Art on May 1 – the third highest water level ever recorded – the museum will be flooded with plants this weekend.
The 33rd Annual Wildflower, Native Plant & Seed Sale will proceed as planned on Saturday, May 10, and Sunday, May 11, in the courtyard of the Brandywine River Museum of Art in Chadds Fordfrom 9:30 a.m. to 4:30 p.m. Admission is free.
Thousands of hardy plants survived the deluge and are awaiting their sale on Mother's Day weekend, museum officials said. Staff and volunteers work year-round on the sale; seeds planted in January 2012 and 2013 became the plants visitors will purchase this weekend, a museum news release said.
Although the Brandywine swept virtually all of the plants away from their nursery locations, the staff and volunteers, led by Mark Gormel, horticultural coordinator who is working his  24th sale, located the vast majority of them.    "Though the plants do have a coating of nutrient-rich silt from the Brandywine, thankfully, our inventory has not decreased significantly," commented Gormel.
Plants available at the sale include a wide variety of regional plants and seeds that are suitable for full sun to deep shade and all types of gardens and landscapes. Many are not available in retail garden centers. Many varieties will attract songbirds, hummingbirds and butterflies and help strengthen the local ecosystem. The sale also includes a number of plants that have proven to be less palatable to deer, the release said.
The sale annually raises about $50,000 for the maintenance of the native plant gardens that surround the Brandywine River Museum of Art.  The Wildflower and Native Plant Gardens are a living representation of the Conservancy's mission to preserve, protect and share American artistic, natural and historical resources, the release said.
For a list of plants expected at the sale, visit http://www.brandywinemuseum.org/documents/PlantSaleList2014.pdf.