To The Editor: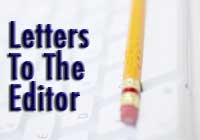 Politics is admittedly a rough game but Rob McCord's TV ad that essentially accuses Tom Wolf of being a racist goes beyond all levels of acceptability.  I join forces with former Governor Ed Rendell, Senator Bob Casey, and other Democratic leaders in condemning this add and urging McCord to withdraw this offensive ad.  When will we Democrats learn to stop shooting ourselves in the foot?
Unfortunately, politics in America has increasingly become a series of nasty tv ads that, too often, amount to character assassination.  Citizens in both parties are saying "enough is enough" and speaking out against ads that cross the line of being appropriate for a political dialogue in our communities.
Governor Rendell noted that the ad is "one of the worst he's seen" in urging McCord to take the ad down and Senator Casey said "This ad is offensive.  I hope it will be taken down ."
So, as a long-time Democratic leader in Chester County and Pennsylvania, I too say – Rob, do yourself, our party, and our Commonwealth a favor and take the ad off the air.
State Sen. Andrew Dinniman (D-19)
West Whiteland