NWS says flooding will worsen before it improves; officials advise staying put
Updated at 5:40 p.m. with information from the county Dept. of Emergency Services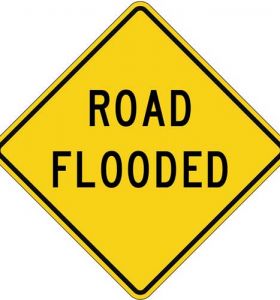 If you haven't finished your ark, best not to venture out.
The latest report from the National Weather Service (NWS) suggests that flooding will worsen before it starts to improve. The Brandywine Creek at Chadds Ford floods at 9 feet and had reached 8.2 feet by 3:30 Wednesday afternoon. It is expected to exceed 12 feet by Thursday morning.
Rain is expected to continue through Wednesday night with an additional one to three inches possible. Officials are urging people not to drive through standing water, which may be deeper than you think.
Patty Mains, a spokeswoman for the county's Department of Emergency Services, said officials recommend that if motorists know that their route of travel includes normal flooding areas, they should find an alternate. She said 35 roads were closed as of 5:30 p.m., and first responders have been called to more than 30 rescues, including a vehicle on Rt. 82  in Coatesville and another at Brandywine Creek Road and Harvey's Bridge Road in Newlin Township. 
Area municipalities are reporting numerous delays due to road closures necessitated by flooding and all are unanimous in offering the same advice: Stay put. If you absolutely have to travel, allow plenty of extra time for all of the detours that will be likely.