40th anniversary show slated for June 11-12, featuring wingwalkers, classic warbirds and more
NEW GARDEN —Tickets are now on sale, online, for the 40th anniversary edition of the New Garden Festival of Flight Air and Car Show, June 11 and 12 at The New Garden Flying Field.
Tickets can be purchased by clicking here, and can be purchased for one day or the entire weekend. In addition, VIP hanger and parking passes are available. Show attendees can save money by buying in advance online.
This year's event will expand to two full days and feature aircraft displays, aerobatics flying and a car show both days. This year's event will feature wingwalker Jane Wicker with her PT-17 Super Stearman and New Garden's own Matt Chapman in the Embry Riddle CAP 580.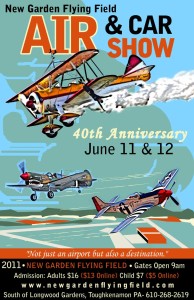 Other performers will include Dan Dameo in the World War II P-40 Warhawk, Jason Flood in his Pitts S1T and Kevin Russo in his SNJ-6. Festivities will start each day with a performance by the Cecil County (Md.) Parachute Team.
The air show will also feature numerous warbirds that will grace the skies each afternoon. These warbirds will include the Confederate Air Force Dixie Wing's P-51 Mustang and Dan Dameo in the P-40 Warhawk.
The event also brings a world-class car show to southern Chester County, featuring classic cars of numerous makes and models. In addition to all of the great planes and cars, there will be live entertainment — including a return of the Ultimate Abbot & Costello Tribute — as well as the Manhattan Dolls singing trio.  Throughout both days of the show,  there will be music, various types of food and beverages and aviation-themed goods for sale.