Candlelight Vigil pays tribute to homicide victims, fallen law enforcement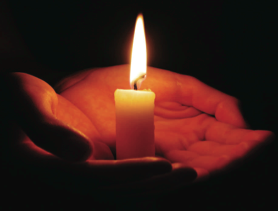 An annual remembrance of Chester County homicide victims and law enforcement officers who died in the line of duty will be held Thursday, April 10, in Downingtown.
Sponsored by the Crime Victims' Center of Chester County, Inc., the 2014 Candlelight Vigil and Memorial Service will be begin at 6:30 p.m. at Central Presbyterian Church, 100 W. Uwchlan Ave., Downingtown. Weather permitting, a candlelight walk will take place from the church to the nearby Victims' Memorial in Kardon Park, followed by a reception at the church.
The event, scheduled during National Crime Victims' Rights Week, provides families with an opportunity to come together to share their grief of losing a loved one to violence and to have the comfort of knowing that their loved ones are not forgotten. Remarks by family members of victims, as well as the reading of the lists of homicide victims and fallen law enforcement personnel in Chester County, are part of the evening's program.
The theme for the 2014 National Crime Victims' Rights Week is "30 Years: Restoring the Balance of Justice." National Crime Victims' Rights Week each year promotes victims' issues and victim services, as well as educates the community about the devastating impact of crime/violence not only on victims, but families, neighborhoods, schools, the community and the country. The week also commemorates the ongoing efforts of victim service providers, criminal justice professionals, allied professionals, and volunteers who dedicate their lives to helping victims of crime and their families.
A slideshow of photos will run through the service. Anyone who would like a loved one's photo included should email photos to Courtney at courtneyw@cvcofcc.org. For more information about the event, call Gina at 610-692-7420.