Bring Your Own and infrastructure upgrades planned over next three years
By Mike McGann, Editor, The Times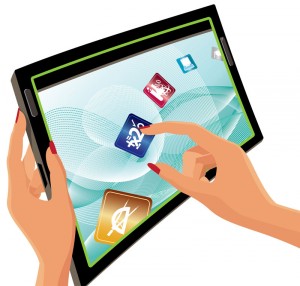 EAST MARLBOROUGH — After some revisions, adjustments and reworking, the Unionville-Chadds Ford School is ready to roll out a new technology plan over the next few years, it was announced Monday night.
Board member Kathleen Do recounted the plan — which be formally ratified as part of the yearly budget process — during Monday night's Board of Education meeting at Chadds Ford Elementary School.
Although early plans to equip students with iPads turned out to be a non-starter, the district is working toward a "Bring Your own Device" or BYD model, where students would be able to bring in their tablets or laptops, connect to the Internet and do instructional work. Devices will be available for those who cannot afford — or forget to bring — devices.
Another new aspect is a Learning Management System — or LMS — which works a little bit like the content management system used to produce digital newspapers such as this one, but is tailored to the needs of educators, students and parents. The LMS will provide a more uniform presentation of information, ranging from class requirements to assignments — and be simpler for the teachers to add information to.
Additionally, this will help the district adapt as publishers slowly transition printed text to digital versions.
Along with all of this will come major improvements to the digital infrastructure of the six district schools, rolled out over the next few years in phases. This should allow for more robust access to the Internet, as well as internal "intranets" for various forms of school-wide and district-wide information.
Teachers will get enhanced training on the use of internet and digital learning aids — as well as the LMS — as part of ongoing in-service and professional development days.
The initial costs are expected to be built into the 2014-15 budget and discussed at greater length as the budget comes under closer review in the next couple of months.
In other district news, the ongoing discussion about outsourcing and the pilot program being used to replace a small number of departed employees continued, as the Board voted 7-1 to approve a contract with SOS Group to provide custodial services.
District officials say that the pilot program is intended to test both the financial and qualitative impact of hiring some support employees through agencies, thus saving on pension costs. Pension costs — thanks to underfunding by the state legislature and school districts during the 2001-2008 period left the funds short of funds, leading to spikes in the contribution rate on each employee. By hiring through an agency, the district has no liability for pension costs on those employees. The current pilot program, due to end June 30, 2014, limits such hires to 10% of a given job category.
Board member Do again expressed her opposition to outsourcing, noting the impact that such employees — especially custodians — have on the welfare of the district's students, including safety.
"Custodians are the unsung heroes of our schools," Do said, noting they are often called upon to assist with students, know the buildings well and know who should — and shouldn't — be in the building at any given time.