Few primary battles were settled at either county convention
By Mike McGann, Editor, The Times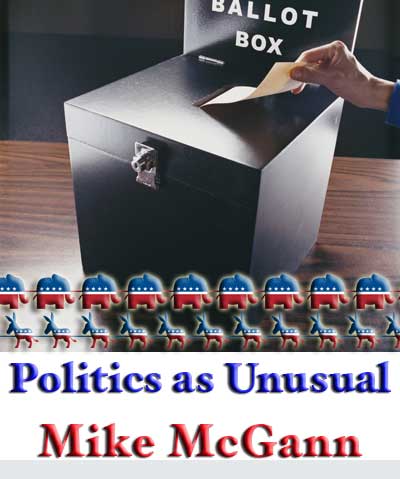 There was a little high drama at the two county party conventions, and in many ways the status quo was largely maintained.
There were just a handful of endorsement battles at the meetings — and maybe only one vote there changes the landscape for May.
We'll  get to the Democratic endorsements, which amount to little more than window dressing — as they carry no particular organizational weight or money impact, after we look at a couple of GOP battles. The Republican endorsement means money, listing on the official ballot — and if ignored by the losing candidate, typically a short future in seeking other offices in the future.
It probably wasn't terribly stunning that East Marlborough's Cuyler Walker easily outpaced Roger (Rogers??) Howard, also of East Marlborough, for the 158th State House endorsement. We still have no word whether Howard is continuing his primary battle — he battled state Sen. Dominic Pileggi in 2012 — but Walker seems like a safe bet to win the nomination and take on Democrat Susan Rzucidlo in the fall.
More dramatic was the moment-to-moment floor battle for the endorsement in the 167th State House district where insurgent Ted Leisenring of Willistown came within one committee person vote of snagging the endorsement over incumbent State Rep. Duane Milne. With both candidates getting the "recommended" stamp, they can spend the next couple of months sparring — and it seems like pension reform will be front and center in that battle.
The biggest Democratic endorsement being Manan Trivedi overwhelming Mike Parrish for the Chester County Democratic Committee endorsement for the Sixth Congressional District. Trivedi got some 75% of the votes, which wasn't a shocker. Parrish is far from done, of course, and with more money and Rich Sestak running his race, this shows all the signs of being a knock-down, drag out fight.
While Downingtown Mayor Josh Maxwell has the right to crow about earning the endorsement for the 74th District State House seat — narrowly — over Caln Commissioner Joshua Young, it doesn't bring much in the way of organizational muscle or money with it for the May primary and it certainly doesn't push Young out of the race. It will be interesting to see whether that race becomes a battle of ideas, or a more personal back and forth — as the two used to be good friends.
It's a little disappointing that there appear to be a number of unopposed state house races — near as I can tell, no Democrats have stepped forward in the 13th, 26th, 155th or 160th district — that amounts to almost half (4 of 10) the state house seats in the county. Granted that those may be the toughest districts for Democrats to run in — it's tough to make a case that GOP is wrong on policy when you have no candidate to point it out.
Polls, Schmolls.
If you look at the latest polls for governor, Gov. Tom Corbett would appear to be in deep trouble — and it seems like a new Democrat is the breakaway leader (Tom Wolf, this time).
But in talking privately to Chester County Republicans, I got the sense that they have a guarded optimism about Corbett's chances, that as the economy rebounds this year and a single Democrat is defined, Corbett will start to see his numbers improve. They point out, correctly, I think, that the current batch of Democrats seem to be climbing over each other to move to the left, staking out positions that could be difficult to defend in the general election.
As terms such as "single-payer health care" and "marijuana legalization" start getting bandied about, voters in the middle of the state and even parts of the west are less inclined to be comfortable in dumping a sitting governor. You'll note the same thing happened in the 2012 race for president — as GOP candidates kept pushing further to the right, leaving ultimate nominee Mitt Romney with little room to maneuver in the general election.
Of course, we're going to need to see more of the Corbett we saw in Chester County last month, where he was able to make his case and laid out his decisions in a fairly accessible fashion — and showed himself capable of being engaging and personable.
Sign on the dotted line
For those still registered members of either party, expect to be solicited for signatures to get candidates on the ballot in the coming days. While it's usually a painful and grueling effort, this year's awful weather has put some campaigns a bit behind the eight-ball to get enough signatures to get on the ballot.
And of course, almost a third of voters — those without party affiliation — get no voice in who gets on the May ballot and don't even get to vote. This, increasingly pushes the political polarization we see in Harrisburg and Washington D.C.
This, to me, is yet another reason to allow independents to sign petitions and vote in primaries, as is done in other states.