Urging precautions, officials say ice likely to have most negative impact
By Kathleen Brady Shea, Managing Editor, The Times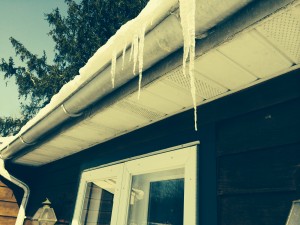 It seems that residents' collective efforts to wish away another winter wallop have failed, and it's coming regardless.
The National Weather Service has updated its advisory from a watch to a warning, predicting that snow will begin late Tuesday night, falling heavily at times, and continuing into Wednesday. The snow is expected to mix with sleet and freezing rain on Wednesday before tapering off Wednesday afternoon.
Dangerous travel conditions, especially during Wednesday morning's commute, are expected from snow-covered roads, reduced visibility, and icing that could bring down tree limbs and power lines. Snow accumulations of 3 to 6 inches and ice accumulations of a quarter of an inch are predicted for the area from Kennett to Honey Brook, the National Weather Service said.
The Chester County Department of Emergency Service said it expects the major impact from Tuesday night's storm will be the ice, which will be compounded by snow, some of which is left from the Feb. 3 storm. Residents are urged to follow these tips:
Clear a sidewalk path at least 30 inches wide of the snow that is currently on the ground.  The additional ice tonight will make shoveling of the existing snow extremely hard.
Make sure you park your car as far away from corners as possible. Cars parked too close to the corner limit the turning radius of salting vehicles.
Whenever possible, avoid clearing snow into the street.  This practice creates additional work for public works crews and creates hazardous conditions for drivers.
Make sure firefighters will have easy access to fire hydrants by clearing snow around and in front of the hydrants.
If you have a storm drain near your property, clear the snow away from it as well.
The public is urged to check in on older friends, relatives, and neighbors before, during, and after the storm.
When the storm beings to impact the area, limit travel to allow the public works crews to treat the roads.
The county also urges residents to call utility providers – not 9-1-1 – to report power outages. PECO may be reached at 1-800-841-4141.  PPL may be reached at 1-800-342-5775, opt. 1.  It is important for each customer who is experiencing a power outage to report it.  So, call even if a neighbor has already called to report an outage. The faster a utility company knows about the outage, the sooner it can begin getting lights and heat restored.
If power goes out, never run a generator indoors, the county advises.  Do not use gas ovens or ranges for heat and turn off any appliances that were  in use when the outage occurred.  Contain the heat in the home as long as possible by closing off unoccupied rooms and keep warm with layers of clothing and blankets.
For the most up-to-date snow and ice forecast, visit the National Weather Service's website at www.weather.gov/phi.