Officials urge safety precautions for supplemental heating devices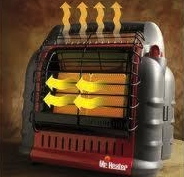 How low will temperatures go? The National Weather Service is predicting wind-chill values down to -12 Monday night with a west wind of 21 to 24 mph and gusts as high as 41 mph.
On Tuesday, Jan. 7, the mercury is not expected to exceed 11 with wind chills down to -13 during the day and -8 at night. A warmup of sorts is predicted for Wednesday, Jan. 8, with a high near 23; however, a west wind of 7 to 9 mph may produce wind chills of -7. The wind should dissipate Wednesday night, and Thursday could see a high near 36.
The forecast is a particularly chilling one for local firefighters since an estimated 900 portable heater fires in residential buildings are reported to U.S. fire departments each year and cause 70 deaths, 150 injuries, and $53 million in property loss, said a news release from the Keystone Valley Fire Department. And even though only two percent of heating fires in homes involve portable heaters, they peak in January and comprise 45 percent of all fatal home heating fires.
"During cold weather take the time to be extra cautious, especially when using alternative heating devices, like space heaters, fireplaces, and kerosene heating," said Chief Raymond Stackhouse. "Do a home safety checklist daily, looking for combustible items that have been moved too close to these devices. Many home heating fires are due to human error, with a little prevention we can lower those numbers dramatically!"
All heating equipment needs space, the release said. Keep anything that can burn at least three feet away. Supervise children whenever a wood stove or space heater is being used. A three-foot "kid-free" zone around open fires and space heaters is recommended, the release said.
According to the release, 52 percent of home portable heater fires occur because the devices are too close to items that can burn; 38 percent of home portable heater fires originate in bedrooms, where items such as blankets, sheets and comforters ignite, the release said.
To watch a video from the Federal Emergency Management Agency (FEMA) on portable-heater safety, go to http://www.youtube.com/watch?feature=player_embedded&v=9AMQ1ASnmNU.