Dropping temperatures, high winds could make Thursday night/Friday morning travel hazardous
Updated: 12:45 p.m., adds Chester County info, PennDOT comments
Updated: 3:30 p.m.: Adds Unionville-Chadds Ford School District Information
By Mike McGann, Editor, The Times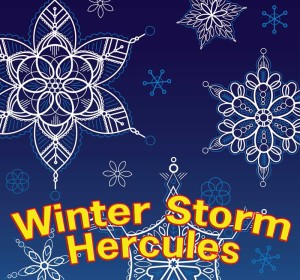 Chester County residents can expect 2014 to get off to a cold and snowy start, as Winter Storm Hercules is expected to dump 4 to 6 inches on snow on the county and see temperatures drop into the single digits by late Friday.
According to the National Weather Service, which issued a Winter Storm Warning starting at 6 p.m. Thursday, snow is expected to start sometime this afternoon, potentially as a rain/snow mix, with temperatures dropping and the intensity of the snow increasing as the night wears on.
In Unionville, the Unionville-Chadds Ford School District announced it would close all buildings at 6 p.m. Thursday night, cancelling various community events. Ditrict officials say they will make a final call on whether to close school on Friday at 5:30 a.m. Details on the closure decision will be on the district web site, be texted, emailed and phoned to those homes signed up for such notifications.
Into the evening, winds are expected to pick up, creating the potential for "near blizzard conditions" the National Weather Service said, with a potential for one inch of snow per hour during the storm's peak. The winds will also make snow removal challenging for road crews, as wind will blow snow onto freshly plowed roadways.
Residents are urged to use caution in travel tonight — and stay off roads if possible.
The biggest snowfalls are expected in the north and east portions of the county — and while area residents may struggle, those further north and east could see more than a foot of snow — Boston, among other locales, is expected to get hit hard over the next 72 hours.
Chester County Emergency Services is telling residents to prepare for the snow storm that is to arrive this afternoon by getting home safely and staying there, if possible.  The less traffic on the roads will be beneficial to municipal road crews and PennDOT so they can get our roads plowed.
Also, if residents lose electric they should call their electric company.  Do Not Call 9-1-1.
The bigger concern, officials said, is the extreme cold that will be coming into the county after the snow storm.  Low wind chills and single-digit temperatures for late Friday.  Residents can check out this guide from the CDC on Extreme Cold Weather Safety Tips;  http://emergency.cdc.gov/disasters/winter/pdf/extreme-cold-guide.pdf (this guide is on the Dept. of Emergency Services website as well – www.chesco.org/des
Because of the cold, county officials are particularly worried about the homeless.
They say if you come across a homeless person or anyone else who requires emergency sheltering, that you should contact ConnectPoints at 1-800-935-3181.
This is a contracted service through the Chester County Department of Community Development and will work to place individuals and/or families in safe conditions until the weather has subsided and returned to less than dangerous conditions. They are available 24 hours per day/7 days per week.
For more information please contact the Chester County Department of Community Development at 610-344-6900.
Residents can keep up-to-date on weather forecast by signing up for ReadyNotifyPA, www.readynotifypa.org   This is an emergency text alert system that Chester County Department of Emergency Services uses to get weather alerts out to our citizens.  We also keep residents informed on Facebook (www.facebook.com/ccdes) and Twitter (www.twitter.com/ccdes).
Pennsylvania Department of Transportation (PennDOT) officials are stressing the fact that main roads will likely not be clear until the storm has passed — and that drivers should use common sense, and slower speed, to keep safe. And if possible, stay off the roads until conditions improve and road crews have cleared the highways.
"PennDOT follows weather forecasts just like our customers do, but the bottom line is that weather is unpredictable and we need to be prepared for quick changes in weather and road conditions," PennDOT Secretary Barry Schoch said. "If significant precipitation is forecast, people shouldn't travel unless they must. This ensures that everyone stays safe and crews can focus on treating the roads."
Schoch noted that this winter has already featured several storms with unexpected bursts of intense snowfall in short periods of time. He said when encountering such rapidly developing conditions, drivers need to slow down and leave plenty of room in front of them to deal with suddenly slippery road surfaces.
During storms, interstates and expressways are PennDOT's primary focus and equipment may be redirected to these routes during significant winter events. Plow trucks will also be slowed when facing heavy precipitation or when many other vehicles are also on roadways. This means that during heavier storms, motorists may find deeper accumulations on less-traveled routes and should adjust their driving for those conditions.