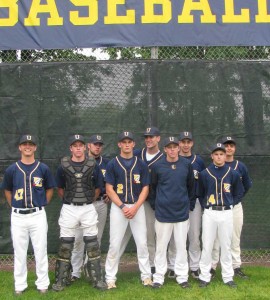 EAST MARLBOROUGH — There will be a baseball clinic and home run derby on March 12 from 10 a.m. until 12 noon at the Unionville High School Baseball field.  This event will be held outside on the varsity field unless there is significant rain and we will then be in the high school gym.  The varsity players and  coaching staff will run the clinic and the derby.  We will have prizes for the derby, snacks and shirts for all participants.  Please contact HannahChristopher@comcast.net for more information.
All UHS Baseball families are asked to donate any new or good, used baseball and softball equipment for the "Cardboard to Leather" program. The equipment will be delivered to boys in girls who want to learn to "play ball" in countries such as Nicaragua, Haiti, and Venezuela.
All equipment is needed: bats, batting gloves, baseballs and softballs, gloves, cleats, uniform hats, shirts, pants and socks, catcher's and umpire's gear, bases and any teaching aids. A collection box will be at March 12 UHS Baseball Clinic. Donations also can be dropped off at Unionville High School, Patton Middle School and Chadds Ford and Hillendale Elementary Schools through the end of March. Donations also may be made during "Opening Day" ceremonies and games at URA and KAU.
Questions? Contact Michael Walter-Dillon at 610-361-7823 or mjwaltermjw@verizon.net
The Cardboard to Leather program is sponsored by the [Baltimore] Oriole Advocates, an organization of volunteers joined together to promote and stimulate an interest in baseball at all levels, among youths of all ages, all over the world.