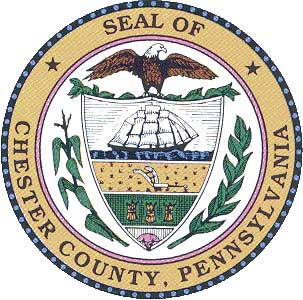 WEST CHESTER — Despite it being a time when state economic development funding has become sparse, Chester County has been awarded funds for four projects to create local jobs and boost the county's economy.
County Commissioners' Chairman Ryan Costello announced Tuesday that $5.25 million in Pennsylvania Economic Growth Initiative funds had been awarded by Gov. Tom Corbett for four Chester County projects. 
The four chosen in Chester County came from a total of 58 projects in the Commonwealth's 67 counties.  Statewide, a total of $133 million in Redevelopment Assistance Capital Program (RCAP) funding. 
The four projects slated for funds in Chester County are:
• $750,000 to the Chester County Historical Society to upgrade its roof, HVAC, front terrace and sprinkler and water control systems.
• $1.5 million to the Innovation Center at Eagleview to renovate and upgrade its building. The Innovation Center offers fully equipped lab space and offices to emerging life science, bio-medical and other technology-based companies.
• $2 million to Uptown Worthington for its' mixed use development in East Whiteland Township.
• $1 million to Carlino East Brandywine for its' East Brandywine Township project.
Getting four of the 58 funded projects — especially in a time when such funding is in short supply — is good news for Chester County, Costello said.
"There was a time when RACP funding was much more prevalent, and handed out very generously," Costello said in a statement. "We are obviously in a different era, where government funding has necessarily tightened. Nevertheless, I credit Gov. Corbett with identifying that a merit-based RACP funding program can play a pivotal role in fostering economic development and creating jobs."
Costello said he sees this sort of funding as being key to fostering growth in the local economy — and what look to be some of the key growth industries of the 21st Century.
"Here in Chester County, the $1.5 million grant to the Innovation Center is directly tied to helping start-up companies grow and expand employment opportunities," Costello said. "Research shows that where start-up companies start, and grow, is usually where they stay. This grant helps breathe even more life into the emerging life science, bio-medical, and technology start-up companies that Chester County is recognized for, and The Hankin Group has been a terrific pioneer in providing the space for the Innovation Center."
The project at the Chester County Historical Society, Costello said, will help to protect a key local resource for all county residents.
"While Chester County has been a long-time supporter of the Historical Society, the Commonwealth's assistance with capital improvements to the Historical Society building is both needed and welcomed," Costello said. "The county is very grateful for Governor Corbett's leadership in making this grant happen."
Pennsylvania's Redevelopment Assistance Capital Program is funded by bonds, issued every three years by the Commonwealth. RACP is administered by the Office of the Budget to support major regional, economic, civic and historical improvements.