Both drivers cited for speeding after losing control Saturday on Doe Run Road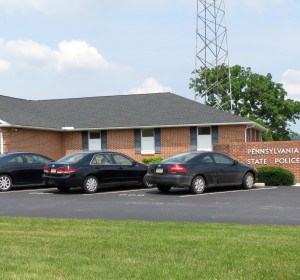 State police from the Avondale barracks reported back-to-back, one-vehicle accidents on Doe Run Road in West Marlborough Township on Saturday, Dec. 14, at 3:46 p.m. –both attributed to speeding.
Roni J. Page, 50, of Toughkenamon, was cited after traveling west on Doe Run Road in a 2003 Jeep Grand Cherokee when she lost control descending a hill south of Covered Bridge Road, exited the roadway, and struck an embankment.  No injuries were reported, but the Jeep had to be towed, police said.
At the same time on the same section of roadway, Lyndsay G. Dooley, 26, of Downingtown, lost control while descending the hill going westbound in her 2008 Mitsubishi Galant., police said. Dooley exited the roadway and struck a tree, police said. Police said she was not injured, but her 25-year-old passenger was taken to Jennersville Hospital with an unknown injury; both were wearing seatbelts. Dooley was cited for speeding and her car was towed, police said.
State police from the Avondale barracks said an unknown person forced entry into the Kyoto Restaurant on Monday, Dec. 16. Police said that the office of the restaurant, located in the 100 block of Onix Drive in East Marlborough Township, was ransacked and that the thief made off with $10.
A resident of the 300 block of Brandywine Drive in Newlin Township reported tire tracks and torn-up grass on the front lawn, state police from the Embreeville barracks said. The damage occurred sometime between Friday, Dec. 13, at 10 p.m., and Saturday, Dec. 14, at 7:30 a.m., police said. Anyone with information is asked to call the barracks at 610-486-6280.
State police from the Avondale barracks reported a one-vehicle crash in Pocopson Township on Dec. 6 at 9:09 p.m. Police said Sean C. Haegele, 22, of Oxford, was traveling north on Rt. 52 at its intersection with Lenape Unionville Road when he lost control of the 2000 GMC Sierra, which overturned while rounding a curve. Police said Haegele, who was wearing a seatbelt, was not injured; he was cited for leaving his lane of travel.
A three-vehicle crash in Pennsbury Township on Dec. 11 at 8:35 a.m. resulted in a citation for a Phoenixville driver, said state police from the Avondale barracks. Police said Jacqueline E. Spencer, 24, was following too closely in her 2006 Mazda 3 while traveling west on West Street Road at its intersection with Parkerville Road. Police said Spencer rear-ended a 2006 Honda Accord, which then impacted the rear of the vehicle in front of it, a 2011 Toyota Corolla. No injuries were reported, police said.