One — the former Democratic power-broker — knows he's done, the other is oblivious
By Mike McGann, Editor, The Times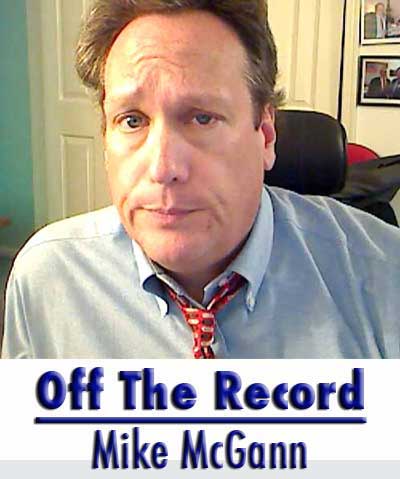 As we head into the holiday season — and hopefully, a couple of weeks of relative quiet — a few notes and thoughts on local political stuff and other news items.
Maybe the topline item this morning is that James Ellison is out at Rhoads & Sinon — meaning he will no longer serve as solicitor for the Coatesville Area School District. Between the ongoing investigation of the district and increased scrutiny of the firm's billings — about $1 million yearly per year over the last four years — it is an interesting development.
Little detail — or reaction from the Board of Education — has emerged, but Ellison's resignation effective Dec. 31, late Friday, doesn't seem to even carry the faux patina of the traditional "wanted to spend more time with his family" or "plans to pursue other career opportunities."
There will be a lot of questions in the coming weeks — including, as Chester County District Attorney Tom Hogan alluded earlier this year, whether Ellison — among others — obstructed the ongoing investigation into the district. Another question: explaining the extent of the billing numbers.
Taking a cursory look at the billings of Jack Merrick, the solicitor for both Unionville and Kennett — actually, it's difficult to get a hard number, as neither district's budget appears to specifically spell out legal costs — the Coatesville numbers seem high.
Assuming Kennett and Unionville spread their legal expenses out over a number of accounts for  "Contracted Professional Services" — which includes a ton of other categories including doctors and other professional specialists — the total budgeted numbers for both of the districts Merrick represents are just a fraction of the billing numbers of Rhoads & Sinon in each of the last four years.
True, some of this legal expense comes from the Coatesville district's exceptionally high expulsion rate, which in itself begs questions — but that is a topic for another day. But one must question how the district finds itself with legal fees that appear to be a multiple of neighboring districts — maybe even four to five times those seen elsewhere.
And with the questions about the financial health of the district — questions likely to intensify in 2014 — all of this begs further scrutiny.
What will be interesting is whether all of this mess has any impact on the 2014 race for State Representative in the 74th District.
I'm guessing not, although Harry Lewis, Jr., the GOP candidate in the race, may face some questions about what he knew and saw and when, as the the culture of misbehavior in the district seemed to grow in the last decade.
Lewis was a longtime teacher, coach and administrator for the district — retiring as principal of Coatesville Area High School in 2006. He may face questioning about why he did not speak out if the behavior of Richard Como and others — the former Superintendent alleged to have made racially derogatory comments about students and teachers in texts — was evident during his time working for the district.
Already, it appears that J. Neil Campbell, president of the school board and a local GOP party leader (and State Committee member) is being distanced from Lewis. County party insiders tell me they are very worried about Campbell damaging the party — especially as the potential for the exposure that he and his colleagues completely failed to meet their fiduciary responsibilities seems more likely.
It is something that bears watching.
* * *
If you like zombie movies, the primary race for the 158th District GOP nomination ought to send you to the microwave to pop popcorn.
For those of you following the race, well-respected East Marlborough Supervisor Cuyler Walker is running for the seat — and will certainly win the Republican nod when all is said and done. Unless Gov. Tom Corbett implodes — doubtful in my mind — Walker would have to be seen as a strong favorite in the fall election, over Democrat Susan Rzucidlo.
And while I expect that fall race to be a relatively civil, issues-based race by two intelligent, thoughtful people, it appears that the spring primary could be something out of a Saturday Night Live skit.
G. Rogers Howard — who took on state Sen. Dominic Pileggi in 2012 — is running against Walker.
Howard is the darling of the local Tea Party types, who seem to have missed the memo that the party is over. Way over. His performance at a Kennett school board meeting a few weeks back showed his familiarity with facts about various subjects appears to equal that of Katy Perry's understanding of particle physics. Thankfully, Perry just sings, but Howard just keeps talking, citing Wikipedia as some sort of scholarly source.
In short — Howard is kind of an embarrassment.
And it's not just me saying that. GOP county party insiders, some of whom were tolerant of the Tea Party shenanigans in 2012, now are making it clear to me how disgusted they are. After driving the pointless and wildly ineffective shutdown, opposing common-sense immigration reform and taking one extreme position after another, party insiders — much as we're seeing with U.S. House Speaker John Boehner — are washing their hands of these Tea Party folks, and even seem prepared to wage war to regain and restore their party.
And maybe another sign that mainstream Republicans are done pandering to the dwindling number of Tea Partiers, U.S. Rep. Joe Pitts (R-16) voted this week for the bipartisan budget deal — a deal that would ensure two years of fiscal stability. One hopes it gets through the U.S. Senate.
While neither Republicans or Democrats are thrilled with the deal, it represents a real compromise — both sides got what they needed, if not what they wanted, which is how things are supposed to work.
While Chester County's other two congressmen, Jim Gerlach (R-6) and Pat Meehan (R-7) have been ahead of the curve — and made a number of moderate fiscal votes this fall — and opposed the shutdown, Pitts was a conservative holdout.
But even the veteran Congressman from East Marlborough is seeing the writing on the wall.
Speaking as a small businessman, for a couple of years now we've seen the economy start to pick up steam, only to be smacked down by lunkheaded behavior in D.C. Blame Congress, blame President Obama — I don't much care, to be honest — but they have collectively put political gain ahead of the good of the country and the economy.
We in the business community are not amused. We're less amused by the boneheads who opposed the state transportation bill — and yes, reasonable arguments could be made on how it was funded — but there were holdouts who maintained it was a bad idea to spend on our crumbling highways and bridges.
A strong economy depends on stable governance and a solid infrastructure. Too many people in recent years — particularly in the GOP — were listening to the siren song of the Tea Party, which mostly appears to favor chaos and self-centered opportunism.
Thankfully, it seems lately like a lot more folks in Harrisburg and Washington have been able to tune out that discordant song and get back to governing.
And that's a good thing.