You can create an entirely new smile in just a few visits
By Dr. Stephanie McGann, DMD FAGD, Columnist, The Times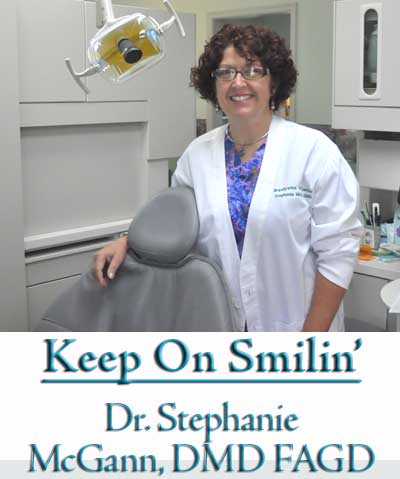 What is a veneer? For more than 20 years dentists have had the technology to create lifelike appearing veneers to give teeth a flawless appearance.  Also known as laminates, veneers are usually custom made from porcelain.  Porcelain veneers can make uneven or crooked teeth appear straight. They can make darker teeth appear pearly white and can cover or hide areas where teeth have been worn, damaged or discolored over time.
Today's laminates are thinner, stronger and have better esthetics than ones made even 10 years ago. We can use the latest in techniques to bring out the best in every smile.  Veneers are great looking and in some cases can provide a more conservative approach than placing crowns or caps on teeth.
How does it work?  At the first visit, the teeth are roughened a slightly reshaped to allow adequate space for porcelain. In some cases this preparation is so minor that no local anesthetic is needed. However, for some people, in order to get the desired result more preparation is indicated. Each case is unique and is customized to the needs of the patient.  Patient comfort is of utmost importance.
Once the teeth are adequately shaped, impressions are made. These impressions will be used to create an exact replica of the patient's mouth in order to custom design the veneers.  If the modifications are significant, a temporary will made to protect the teeth while the veneers are being manufactured.  Prior to sending the case to a dental lab, the dentist will choose colors, shapes and sizes for the veneers.  A photograph of the patient may be included as well.
For most patients the most difficult part of the procedure is waiting for the veneers to be made.  A good ceramist will take hours to custom layer porcelains in order to obtain the desired result.  Once the veneers are back at the dental office, we remove the temporary covering, if necessary, and provide a try-in or peek of what the veneers will look like. Once we confirm the fit and esthetics of the veneers we clean off the teeth, clean and prepare the veneers for bonding.  If the color or shape is not what we are looking for, the veneers can be returned to the laboratory for modifications. During the bonding process the teeth are washed and dried and kept dry while resin cements are used to permanently attach the veneers. Excess cement is removed and each tooth is able to be flossed effectively.
How to care for veneers:
Porcelain veneers are strong and very resistant to staining. We suggest a normal diet and as always good oral hygiene.  Some common sense items also are addressed. No opening bottles or bags with your teeth, these pulling, ripping or tearing motions are not what they were designed for.  Biting fingernails usually does not work with veneers and should be avoided.  Many veneer patients have gotten veneers because they have chipped or worn their front teeth from grinding habits. These patients will be placed in a nightguard to protect their veneers from these excessive forces.
There is always a period of adjustment after a major cosmetic change.  We often ask that patients take a week two to get used to their new smile. Even a small difference in size and shape will initially feel huge in the mouth. While each dental practice has their protocols, we usually like to see our veneer patients for a follow up visit in a week or two. At this visit we have a chance to answer any questions that may have arisen since the veneers placement. We also will check the bite again and make sure there is no remaining cement that was not removed during the cementation visit.
It is important with all cosmetic dentistry that we have realistic expectations. Each veneer is hand made by a ceramist. There will be natural color and shape variations, just like natural teeth.  Porcelain veneers (laminates) can dramatically improve a smile in just a few weeks.
The most important question is why should I invest in my smile?  The simple answer is confidence. The increased confidence and self-esteem that come from a great smile carries over into all aspect of our lives. If your smile is not what it could be, talk to your dentist and see if veneers are right for you.
Dr. Stephanie McGann, who has more than two decades of dental practice experience, is a resident of the Unionville area and along with her partner, Dr. Marie Scott, operates The Brandywine Smile Center, a family-friendly dental practice in Concordville. She is a Fellow of the Academy of General Dentistry.