Large fourth grade means classes as big as 28
By Mike McGann, Editor, UnionvilleTimes.com
PENNSBURY — Parents expressed concerns about the size of fourth-grade classes — specifically at Hillendale Elementary School — and asked whether adjustments will be made for the students' fifth grade year.
Lynn Bowers, who has three children attending Hillendale, a kindergartner, as well as fourth and fifth graders, expressed concerns about the size of fourth-grade classes at her child's school during last week's Board of Education meeting, suggesting that classes as big as 28 were "outrageous."
She also cited an imbalance — Chadds Ford Elementary has 20 students per fourth grade class, while Pocopson Elementary has about 25 per class, while Unionville Elementary School has either 26 or 27 in each of its classes, while Hillendale has two classes of 28 and one of 27. Bowers said she was worried that students weren't able to get the attention needed with classes that large.
Superintendent of Schools Sharon Parker confirmed the numbers — and noted that they were the product of two issues: a commitment to the neighborhood school plan and move-ins during the school year that threw off the balance of class sizes.
On the neighborhood school number: Parker noted that with 60 fourth graders at Chadds Ford, the district had no choice but to create three classes at the school or face class sizes of 30.
Previously, the district split K-3 students to Unionville and Chadds Ford, sending fourth and fifth graders to Hillendale. With the construction of Pocopson Elementary School, the district adopted a neighborhood school plan, putting K-5 in each building; as a result, class sizes can vary above the district guidelines at times. Complicating matters, students moved into the district during the year, throwing the numbers off even more than district administrators anticipated. In order to save money, the board of education voted last year to increase class-size guidelines by one.
One other factor: as a whole, the fourth-grade class — what would be the Unionville High School Class of 2019 — is a large one, with nearly 350 students, according to the district's Director of Elementary Education, John Nolen. While Bowers expressed some concerns about what might happen when the students moved to Patton Middle School in two years, Nolen noted that having all of the sixth grade students in one school allows for more precise planning for class size, so it likely wouldn't be a major concern.
Still, board members were sympathetic to the worries about class size.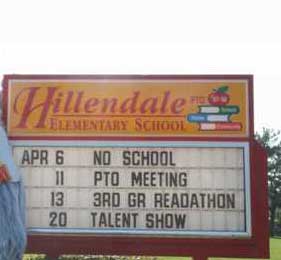 "Your concerns are understandable," board president Timotha Trigg said. "Unfortunately, there are destined to be differences in the class sizes. But it is something that we will look at as we move through the budget process."
Parker said she wanted to get more input from parents on the issue and said she planned to have a meeting with fourth grade parents at Hillendale to hear their thoughts and concerns on class size.