Former White Dog Cafe owner will discuss local living economies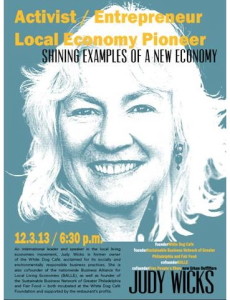 An internationally renowned leader of the local-living-economies movement will speak at the Chester County Library in Exton on Tuesday, Dec. 3, following a networking mixer at 6:30 p.m.
Judy Wicks, a longtime activist, is the former owner of the White Dog Café in Philadelphia, acclaimed for its socially and environmentally responsible business practices. She is also the author of Good Morning, Beautiful Business: The Unexpected Journey of an Activist Entrepreneur and Local Economy Pioneer.
Her free, public presentation will focus on local living economies, responsible business, and the role of the feminine in building a new economy. 

Her keynote presentations at numerous conferences have provide insight and inspiration concerning the deep connections between local food, ecology, economy and social justice, a library news release said.
Wicks, who resides in Philadelphia,
is co-founder of the nationwide Business Alliance for Local Living Economies (BALLE), as well as founder of the Sustainable Business Network of Greater Philadelphia and Fair Food — both incubated at the White Dog Café Foundation and supported by the restaurant's profits. In her retail career, Wicks was founder and owner of Black Cat, which featured locally made and fair-trade gifts for 20 years. In 1970, Judy co-founded the original Free People's Store in West Philadelphia, which became Urban Outfitters.
Wicks' work has earned numerous awards, including the James Beard Foundation Humanitarian of the Year Award, the International Association of Culinary Professionals Humanitarian Award and the Women Chefs and Restaurateurs Lifetime Achievement Award. Continuing her work to build a new economy, Wicks devotes time to mentoring the next generation of entrepreneurs, the release said.
To register for this special event, visit www.ccls.org and click on "Find an Event," or go to the library's Facebook page at www.facebook.com/chestercountylibrary and click on the events section.