Extra precautions recommended with space heaters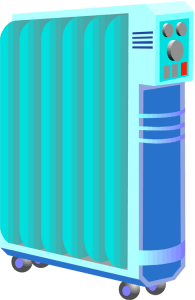 With winter approaching, the Chester County Fire Marshal's Office is urging all residents to be extremely careful when using any auxiliary heating device.
Recently, the Fire Marshal's Office has investigated fires that involved space heaters.  "Check the electrical cord and unit for any damage; do not use if any damage is found," Chief Fire Marshal Harrison Holt said. In addition, make sure units qualify as an approved appliance by a certified testing company, he said.
Other tips include avoiding the use of extension with heating units as they are not designed for extension-cord use. Keep heating units away from all combustible materials like curtains, clothing, and blankets; a minimum of three feet is recommended. Keep children and pets away from heating units, which should also be kept clear of any holiday decorations. Finally use heating units according to manufacturers' recommendations.
The Chester County Fire Marshal's Office also reminds residents that now is the time of year to make sure that whole-house heaters and fireplace chimneys are checked by a certified professional for proper operation. Make repairs to avoid problems later.