End of daylight saving time provides chance to check detectors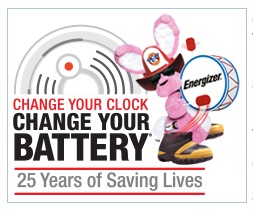 Daylight saving time ends Sunday, Nov. 3, and county residents are reminded when turning clocks back an hour, change and test the batteries in smoke alarms and carbon monoxide detectors.
"This one simple step can help save lives," said Chester County Chief Fire Marshal Harrison "Digger" Holt in a county news release. "Each year communities nationwide witness tragic fatal home fires. The most commonly cited cause of non-working smoke alarms is worn or missing batteries."
This marks the 26th year that the International Association of Fire Chiefs, in association with Energizer, have sponsored the "Change Your Clock, Change Your Battery" program, the release said. The peak time for home fire fatalities is between 11 p.m. and 7 a.m. when most families are sleeping. Children and senior citizens are most at risk, and a working smoke alarm can give them the extra seconds they need to get out safely.
Families are encouraged to use the extra hour "gained" from "falling back" at the end of daylight saving time to review their home fire safety plans, including practicing an escape plan. For more information on "Change Your Clock, Change Your Battery" visit www.chesco.org/des.