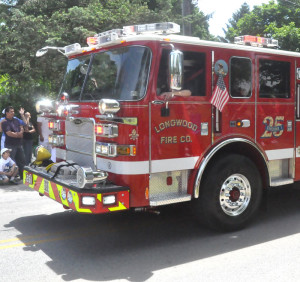 Open house planned for Oct. 20; demonstrations and activities featured
KENNETT — Longwood Fire Company has kicked off its annual fundraising appeal to help meet the expenses of running a 24-hour-a-day operation.
"We need the public's financial support," said Chief A. J. McCarthy. "Day and night, 24 hours a day, we are on duty. Last year we answered 512 calls from the public. Those calls for help include, but are not limited to, fire, water rescue, accidents and EMS assisting."
Longwood has received the support of the community in the past and the fire company appreciates those who have made Longwood Fire Company an exceptional emergency services organization, according to McCarthy.
McCarthy pointed out that funding from municipalities and other grants don't cover all of the costs of running the fire company.
"Longwood Fire Company heavily relies on donations from the community to meet our budget," he said. "Training our volunteers, maintaining our emergency vehicles and all of the other costs of running a fire company is very expensive. We're asking the public to donate what they can. We understand these are tough financial times. Each dollar we receive is valued and will be put to good use."
McCarthy said that Longwood Fire Company is dedicated to providing the best possible emergency services for the community — and hoping area residents would attend a special event on Oct. 20 to learn more about what the fire company does in the community.
"We're inviting everyone to come to our Open House on Sunday, October 20 and see first-hand our operation," McCarthy said. "This is a great chance for the whole family to tour our facility and meet our staff. There will be demonstrations and activities for the whole family."
Longwood Fire Company has served the communities of Kennett, East Marlborough, Pennsbury and Pocopson townships since 1921. Longwood Fire Company provides fire and rescue and emergency medical services 24 hours a day, 365 days a year. For more information see www.longwoodfireco.com.