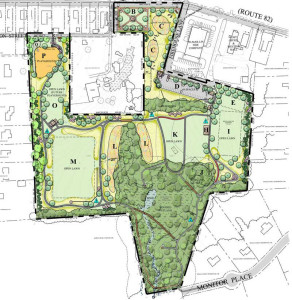 EAST MARLBOROUGH — The township will hold a ground-breaking ceremony for Phase I of the Unionville Community Park on Monday, Oct. 7, at 6:15 p.m.
At last month's Board of Supervisors' meeting, the supervisors accepted the low bid of Bulldog Construction, for a total contract of $545,184. The park will be located on property behind the Po-Mar-Lin Firehouse on Route 82 within the village of Unionville.
Phase I includes the construction of 1,500 feet of paved walking trails, two elevated boardwalks to cross through wooded and open wetland areas, viewing stations, parking, and access enhancements at the park entrance.  The Phase I construction will also include landscaping, reforestation, perimeter fencing, and sustainable storm water improvements to reduce runoff.
Future phases are expected to expand the walkway and trail system and provide pedestrian connections to the west side of the park property, and include a nature play area for young children, restrooms, and a picnic pavilion.
The plans for the park were designed by the township engineering consultants, VanDemark and Lynch and the township planning consultants, Glackin Thomas Panzak.  Planning assistance was provided by the township's Park Committee.
Funding for this phase has been provided by the taxpayers of township, as well as by grants from Chester County Open Space Preservation Department and the Pennsylvania Department of Conservation and Natural Resources.