Authorities said man armed with long gun handed cashier a paper bag for money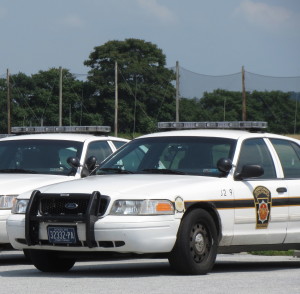 A man wearing a purple Baltimore Ravens sweatshirt and armed with "a long gun" robbed the 24-hour CVS Pharmacy on East Baltimore Pike in East Marlborough Township on Monday at 2:03 a.m., said state police from the Avondale barracks.
Police said the bandit handed a brown paper bag to the cashier with instructions to "put the money in the bag." The robber, a black male who was also wearing a black jacket and black pants, fled in an unknown direction with $182.50, police said. Anyone with information is asked to call the barracks at 610-268-2022.
State police are also investigating an incident of criminal mischief that occurred on Sept. 7 in the 200 block of Cherry Lane in East Marlborough Township that involved the throwing of eggs at a vehicle, police said.
A Sept. 6 accident on southbound Rt. 926 at Unionville Road at 9:24 p.m. in East Marlborough Township was the result of drunken-driving, state police said, adding that no one was injured. Police said a 2011 GMC Acadia and a 2012 Lexus RX350 were stopped for a red light when a 1997 Pontiac Grand Prix with no headlights struck them from behind, causing a chain reaction. An investigation revealed that the Pontiac's driver, Dennis G. Cloud, 49, of Kennett Square, was operating the vehicle under the influence of alcohol, police said.
Court records show that Cloud has been arrested twice before for driving under the influence. In 2005, charges were dismissed, and in 2006, he was admitted into Accelerated Rehabilitative Disposition (ARD), a program for first-time, non-violent offenders, court records said.
A 47-year-old Wilmington driver was cited for his role in an accident on Sept. 4 at 9:54 a.m. in Pennsbury Township, police said. Police said Douglas K. Hanby was traveling southbound on Ponds Edge Drive, south of U.S. 1, when he turned left into a parking area, cutting in front of a 2008 Ford Edge that subsequently struck Hanby's 2007 Mercury Grand Marquis. Police said no injuries were reported.