Kings one win from Senior League World Series title
Updated at 9:15 p.m. with Saturday's opponent
By Kathleen Brady Shea, Managing Editor, The Times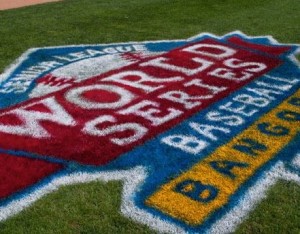 The jubilant Kennett Kings moved closer to the Senior League Baseball World Series crown on Friday with a convincing 9-4 win over Pearl City of Hawaii — keyed by a five-run, two-out rally in the seventh.
Chris Tucker's base-clearing triple propelled the Kings to Saturday's title game, where they will face off against Panama, the only team that beat them in pool play. The championship game, which will be broadcast live by ESPNU, is scheduled for 2 p.m. Saturday.
"Cloud Nine would be an understatement," said KAU Coach Mike Pechin. "It's been an unbelievable ride with so many ups and downs. These guys have been so resilient."
Assistant Coach Chris Jarmuz agreed, adding that the members have systematically  stayed together, "picking each other up through personal loss and rallying around strong pitching defense and timely hitting."
Kennett, the Eastern Regional Champions, jumped out to an early lead with six hits and four runs in the first inning. Drew Jarmuz, Alex  Pechin, and Andrew Jones all singled to load the bases.  Joe Zirolli walked to force in the first run, and.  Tucker Reese grounded into a double play, but Pechin scored from second base. Jake Freeman and Eric Takoushian delivered two more singles, with Jones scoring on Freeman's hit for a 3-0 lead.
Trestan Nakamura, the starting pitcher for Hawaii, which had only allowed two runs in four games,  was lifted from the game with a line of five hits and four  runs in two-thirds of an inning. Designated hitter Dan Garver greeted Hawaii reliever Brandon Henderson with a run-scoring chop single to right field for the King's fourth run.  Hawaii centerfielder Nicholas Au  prevented scoring further when he made a diving catch of Chris Tucker's line drive.
KAU's 16s threatened again in the third inning by loading the bases. Au thwarted that threat, too, with another sliding catch to rob Tucker in centerfield.
Pearl City, which was not about to cave,  clawed back in the fourth with two runs. It continued the comeback in the fifth,  adding a third score to make it a one-run game.
With momentum starting to shift to the Pearl City team,  KAU responded definitively in the top of the 7th inning with five runs. The most dramatic play occurred when Chris Tucker slammed a triple with two outs and the bases loaded. "It was so surreal," said Pechin.
Mike Pechin had praise for pitcher Andrew Jones, as well as Jones' reliever, Alex Pechin, the coach's son, who entered in the seventh and ended the game with a strikeout.  "He kept them totally off balance," said Pechin of Jones' performance. "He did a great job of mixing it up. As a pitching coach, you can't ask for more than that.  They've both done a great job for us all season."
Although the team had to play without starting catcher Eric Duerr, it was buoyed Thursday afternoon when Duerr joined his teammates at the hotel after being released from the hospital with a concussion, an injury that would sideline him but was less severe than feared. Duerr, the son of KAU manager Todd Duerr, was hurt during Wednesday night's game when he collided with a Panama player who was trying to score. Ryan Barrett took over as catcher.
Mike Pechin said Duerr's injury devastated the team. "That was the lowest I'd ever seen them," he said. But he said Duerr's return had an immediate positive, calming effect. "It was great for everyone to see that he was going to be OK," said Pechin.
Pechin said one of the team's most impressive qualities has been the players' versatility and their ability to step up when needed. "It's always someone different," Pechin said. "I'm so proud to be part of it," he said.
Senior League Baseball is the Little League's division for 13- to 16-year-olds. The Senior League Baseball World Series, which has been held  at Shawn T. Mansfield Stadium in Bangor, Maine, since 2002, is one of eight World Series sponsored by Little League International, the largest youth sports program in the world.
No Pennsylvania team has won the championship since 1961, and Pechin said the team would like to change that. "This has been a team of firsts," he said. "Why not another one?"
In the meantime, the group plans to attend Friday's night banquet and then rest up for Saturday's outing, Pechin said.
Jarmuz said the team has been moved by the outpouring of support it has received from fans on social media sites. "Even local fans from Maine have taken a liking to the Kings' good baseball character," Jarmuz said. "Being on ESPN? Wow!"
The McDonald's MVPs for the game were Jones and Tucker.