Kennett uses strong pitching, timely hitting to upend Laredo, 4-2
12 p.m. Updates to add Tuesday morning game against Italy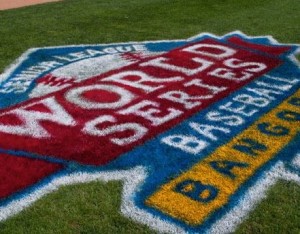 BANGOR, Maine — Two down, four to go.
Riding the strong pitching of Andrew Jones, the U.S. East Regional Champion KAU Kings defeated a very strong team from the Southwest Region (Laredo, Texas) Sunday night, 4-2, and then coatesed to an easy, 11-1 win over Italy, Monday morning, in their opening games of the Senior League World Series.
In Sunday night's opener, Jones pitched a complete game for the East team, allowing just six hits and two runs over seven innings to pick up the win.
Monday morning, Kennett ran out to a 9-0 lead after just three innings, racing out to a perfect 2-0 record in Pool B. One more win in pool play could advance KAU to the semi-finals this weekend, but it could take four wins.
"Andrew Jones is the consummate big game pitcher, said KAU manager Todd Duerr. "He absolutely wanted the ball. He showed great composure and maturity in some difficult situations.. He pitched to contact today, and his defense did a great job behind him. We knew were facing a good pitching team, and that it would be a low scoring game."
Jones, who attends Unionville High School, pointed to a team effort behind the win.
"I felt great out there tonight," Jones said. "It was an honor to pitch in our World Series Opener. It was a team effort, as the guys played great defense behind me."
Early in the game, Laredo wanted to slap the ball and use its speed to get base runners.  However, while Jones may not have had his best stuff, he mixed things up with fastball and change up recording 11 ground balls outs of the 21 outs in the game.
In a classic "pitching to contact" performance, Jones stuck out none, which meant he relied heavily on his defense. Outstanding defensive plays were recorded by infielders Tucker Reese at third base, and shortstop Eric Takoushian. Joe Zirolli's saved a run and ended the third inning on a tremendous stretch and scoop at first base to help squash a Texas rally.
Takoushian recorded six assists from the shortstop position.
After a tense, scoreless first two innings, KAU broke through in the top of the third inning when Drew Jarmuz led off and hit a towering ball one hop off the left field fence for a double.  Alex Pechin had an sacrifice bunt — a tough play — on a very challenging inside fast ball that almost hit him, moving Jarmuz to third.  The very next batter, Eric Duerr ripped a grounder up the middle, scoring Jarmuz, on a ground out.
After Laredo scored in the bottom of the third to make it 1-1, KAU grabbed the lead right back in the top of the fourth inning.
With one out, Jones got things started with a single, followed by another hit by Takousian.  With runners on first and second, Dan Garver pushed runners to second and the third, with an infield ground out inside third. With two outs and runners still on second and third, Jake Freeman clubbed a clutch line drive single and advanced to second on the throw, driving in two runs — and what would prove to be the winning margin, to make 3-1.
After Freeman, Jarmuz hit a hard ground ball off the shin of the Laredo third baseman (scored as an error) that bounded deep into foul territory and Freeman kept flew around third to score KAU's fourth run.
Texas rallied in the bottom of the sixth, but scored only one run. With two base runners on base and two outs, Left Fielder Chris Tucker made a running catch in shallow left field (and avoided collision with his shortstop and third baseman) to record the third and final out of the critical inning.
In Monday's game, Jarmuz came back with four hits, and Eric Duerr drive in four runs.