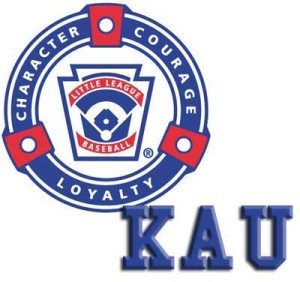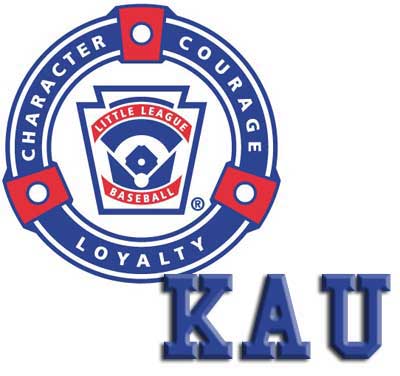 Will there be a bus ride to Bangor, Maine, later this week for the KAU Little League 16-year-old Kings baseball team?
The Kings can assure themselves of a trip to Bangor and the Little League Senior Division World Series when they play in the championship game of the Eastern Regional Tournament Wednesday morning in West Deptford, New Jersey. KAU remained undefeated in the double-elimination tournament and advanced to the title game with an 8-0 defeat of Quincy, MA Tuesday. The Kings' championship opponent will have to win two games to deny KAU that long trip to Maine.
"We're playing with a lot of confidence right now," said KAU Manager Todd Duerr. "I think another team is going to play a very strong game at a very high level of play, because that is what we are doing. There are no nerves…we're just playing good heads-up baseball."
Andrew Jones gave up only one hit–a single to Quincy's second batter of the game–in pitching the complete game shutout. The KAU 16s relied on a five-run second inning and flawless defense to shut down the Massachusetts all-stars.
With the bases loaded with one out in the bottom of the second inning. Alex Pechin smashed a single to deep shortstop to score two runs. Eric Duerr followed with a single to right field to plate another run. With the bases still loaded and two out, Tucker Reese singled in front of the Quincy centerfielder to score the fourth run and the Quincy shortstop overthrew his catcher to allow the 5th run to score.
The majority of the Kings' squad has played together on all-star teams since they were nine year olds. While Duerr said he thought that this group might at some point win a state championship, he credits the team's lonegivity together as an asset during the KAU squad's three-week journey–both on the field and off–through the district, sectional, and regional tournaments.
"Our players seem to read each others' minds," Duerr said. "They know where they need to be to make a play and they know their teammates will be there on the other end. They've either been playing, practicing, or locked up together for the most part in hotels for several weeks and there has been no infighting. They know they have worked hard to get to where they are, but they know how lucky they are to be here, too. Most teams ended their seasons in mid-June."