PennDOT and Pa. Turnpike have partnered for online survey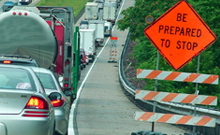 The Pennsylvania Department of Transportation (PennDOT) and the Pennsylvania Turnpike Commission (PTC) wants input on motorists' travels, such as what type of traffic information facilitates trips and where people would like to receive it.
A quick and anonymous online survey has been set up, accessible at www.511PA.com and www.paturnpike.com. In addition to requesting input on traffic information, the survey also asks for feedback on PennDOT's 511PA traveler information service and the PTC's Turnpike Roadway Information Program (TRIP).
"Technology and the ways that our customers use it are constantly evolving. We want to see what people use and expect from information that they absorb while traveling in Pennsylvania," said PennDOT Secretary Barry J. Schoch in a news release. "I encourage our customers to take this survey so we can see which of our tools are valuable to them and whether we can improve the services we offer."
PennDOT's 511PA service provides traffic-delay warnings, weather forecasts, average traffic speeds on urban interstates, and access to more than 679 traffic cameras. TRIP provides real-time traffic conditions, weather alerts, and travel information online, on the road, and on your phone or mobile device for the 552 miles of turnpike roadway.
"We are pleased to be working with PennDOT on this survey, the results of which will be used to enhance statewide traveler information systems that provide our customers with accurate and timely information on conditions that may impact their travel on Pennsylvania highways," said Pennsylvania Turnpike Chief Executive Officer Mark Compton.