UHS class of 2010 member set to compete for Miss America in Sept.
By Mike McGann, Editor, The Times
To say that the last two weeks have been something of a whirlwind for Becca Jackson — a 2010 graduate of Unionville High School — might be something of an understatement.
Since winning the title of Miss Delaware on June 29, Jackson suddenly finds herself in demand around the Diamond State — although she never strays too far from her roots in Unionville — and now with the difficult task of competing in the Miss America pageant in September.
One thing that's making it easier, she said, is the outpouring of support from her native state, Delaware, and Pennsylvania, where she lived from seventh grade through high school.
"It's been great," she said. "I almost feel like the southern end of Pennsylvania and Delaware are kind of like one place, there's a lot of crossover."
Like so many in the area, Jackson spent her early years in the Wilmington area, before her family moved to Unionville when she started seventh grade. Now a junior at the University of Delaware, earlier this year, she was named Miss Dover and earned her place in the statewide pageant.
And while the aspiring singer — still warmly remembered for her performance in Les Miserables in 2010 at Unionville High School — has enjoyed competing in the Miss Delaware pageant, and now the Miss America pageant, her focus remains on music — and winning the title comes with $9,000 scholarship.
Although she had previously been working on opera — she sings coloratura soprano — she said this week she's drifting back toward classic American musical theater and dreams of performing some of the great works of the 1940s through 60s shows on Broadway. That having been said, she notes, she knows she'll have to be willing to stretch as the work requires, across genres and styles.
But she says she feels pretty confident about coping with whatever comes her way.
"When you walk across a stage in a bikini in front of all those people, and survive that, you feel like you can handle anything," she said.
She is quick to point out that her music career really got rolling in the Unionville schools and she still has many memories from those days — and she still remains in contact with Unionville High School choir director Jason Throne.
"I have so many great memories," she said. "I loved going to choir — going to All-State — even singing the National Anthem at a Phillies' game."
She said she had hoped to join many of her fellow UHS alums at last month's Broadway  on the Brandywine event, but her schedule requirements for Miss Delaware got in the way, much to her disappointment.
"I really wanted to do that," she said.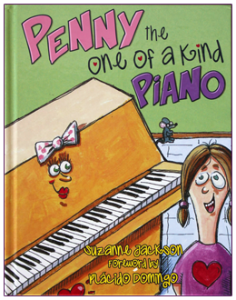 Another thing she has put a lot of effort into is helping foster children get more exposure to music. Along with her mom, Suzanne — a resident singer in the Washington National Opera — they have been working to increase awareness of the needs of foster children through Penny The Piano, which started as a childrens' book and is now a musical, which has been performed in New York and Washington. The story features Penny as she moves from home to home, but learns to find "a home within herself."
Proceeds from Penny have gone to fund Foster Children's Music Lesson Fund, which provides music scholarships to foster children — an effort to kid those kids one constant home, music.
With all that, Jackson said she knows the next 10 weeks — the Miss America pageant takes place on Sept. 15 in Atlantic City — will be filled with a blur of activity. One project she'll be working on is her People's Choice video — an opportunity for her friends and supporters on both sides of the state line to show their support for her. (When the video is complete, The Times will have links and details on how to support Jackson).