Coatesville warehouse becomes showcase for steeplechase,  artwork
By Kathleen Brady Shea, Managing Editor, The Times
When the president of the Unionville-based Delaware Valley Point-to-Point Association (DVA) decided to hold the organization's annual awards party at a fixer-upper in Coatesville, he generated more than a few raised eyebrows.
The skepticism continued as guests got their first glimpse of the behemoth brick building in the 100 block of East Chestnut Street – a view that included a police officer and plywood-covered windows.
But inside the aging warehouse that once housed inventory for Lipkin's Furniture, Don Cochran had orchestrated a transformation that quickly made believers out of the audience of about 150, mainly DVA members.
To jumpstart the metamorphosis, Cochran had contacted Lindsay Brinton, who heads the Art Partners Studio in Coatesville. She reached out to two esteemed area artists: Dane Tilghman of Coatesville and Jeff Schaller of Downingtown, who covered the brick and concrete walls with vibrant artwork, creating a vibe reminiscent of a trendy, urban gallery scene.
For Tilghman, the opportunity to showcase many of his larger than life-size acrylics side-by-side in a building rich with history was a pleasure. He said some of the places where he exhibits simply can't accommodate that scale. "This is a great space," he said, surveying the vast expanse of high-ceiled display space.
Schaller, who often incorporates words and symbols into his encaustic paintings, enjoyed hanging his works on storied walls containing decades of scribbles and notations. "I love the fact that there's a number 12 right here," he said, pointing above one grouping of paintings.
In addition to the opportunity to admire the artwork, visitors could relive the excitement – courtesy of a large screen – of the three steeplechase events that generated the awards ceremony: Cheshire Foxhounds, Brandywine Hills, and Fair Hills.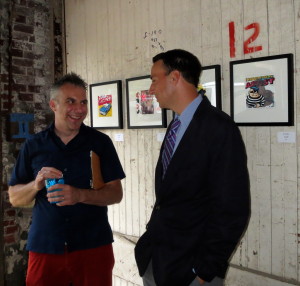 "This is a wonderful building with incredible potential," said Richard D. Buchanan, a DVA member and co-founder of Archer and Buchanan, a West Chester-based architecture firm.
Frank Reilly of Unionville, also a DVA member, agreed. "You could do a lot with this space," he said. "I think people could get excited about coming here."
That's exactly the reaction that Cochran, an East Fallowfield resident, said he hoped to generate after he bought the building in December. He said the purchase prompted his 96-year-old father to opine that even though he had moved his family out of Coatesville when his son was 5, apparently he didn't "get the city" out of his son's consciousness.
Cochran said he has many positive memories of Coatesville, which he feels is on the brink of an exciting renaissance. "I lived a half-block from here on Fleetwood Street," he recalled. "I remember when people from West Chester came here to shop."
Among Friday night's guests were Chester County Commissioners Ryan Costello and Terence Farrell and David N. Sciocchetti, the urban development consultant for the nearby train station, which is in the midst of an ambitious $20 million makeover. In brief remarks, Farrell said the commissioners have been committed to Coatesville's revitalization, but he pointed out that it needs people with Cochran's vision to succeed.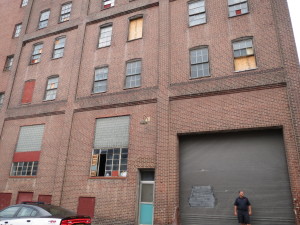 "This building has to play a pivotal role in the redevelopment," Cochran said later. "It's the largest building in the area; it's the 800-pound gorilla – where something good needs to happen … Whether I'm the developer or not is yet to be determined, but I wanted to secure it."
Cochran said he's already been approached by developers but wants to wait until the train station progresses before committing to a course of action. He said if he doesn't find a developer who shares his enthusiasm for the city's potential, he could end up taking on the project himself. "Coatesville is a sleeping giant. Philadelphia's moving west, and Kennett doesn't have a train station.  West Chester doesn't, either," he said, calling the rail access an asset for businesses and residents.
"I could see a microbrewery downstairs with loft condos above," he suggested. "This could be a trendy, hip, urban center. A 26-year-old kid could live here and commute to Philly or Harrisburg, even New York."
For Friday night's party, Cochran said he hired a police officer to stand sentry outside only because he thought it might raise the comfort level of attendees unaccustomed to the urban environment. "I really don't think we needed it," he said, a sentiment shared by several city residents.
Cochran said so far he's been welcomed in the neighborhood, a mix of commercial and residential real estate. "They all want to see something positive happen here," he said.
The evening concluded with the DVA awards, which are presented annually each year to the owners, riders, and trainers who have earned points during steeplechase events. At the end of the ceremony, former DVA president Carl Meister offered high praise for the party, which he had organized in the past. "The first time I've seen it so successful is tonight," he said. Asked later whether his comment might have been prompted by self-deprecation, he shook his head. "I know when something's good; this was," he said.