Troopers said severe burns to truck, driver hampering identification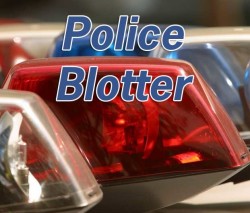 State police from the Avondale barracks are seeking the public's help to identify the driver of an early 1990s Chevrolet S-10 pick-up, who died Sunday in a single-vehicle crash.
Police said the truck was traveling south on Rt. 272, north of McCoury Road, in East Nottingham Township. Police said it moved off the south side of the roadway, struck a tree and caught fire. The driver was found deceased inside the vehicle, and the damage was so severe that an ID and vehicle ownership remain undetermined, police said. Anyone with information is urged to call police at 610-268-2022.
Troopers arrested Adam D. Jenkins, 20, of Cochranville, for possession of marijuana and drug paraphernalia on northbound Rt. 1 at Bayard Road in East Marlborough Township on Tuesday at 11:30 p.m., state police said.
A 71-year-old Unionville man reported that his credit card was used without authorization in Tampa, Fla., police said, adding that an investigation is continuing.
Kevin Margera, 29, of Marcus Hook, faces driving under the influence charges after a crash on northbound Parkerville Road in Pocopson Township on Sunday at 11:40 p.m., police said. Margera was speeding when he failed to negotiate a curve and struck a tree, flipping his 2001 Ford F250, police said. Margera, who was determined to be intoxicated, was taken to Paoli Hospital for minor injuries, police said.
A 25-year-old Downingtown man traveling north on Rt. 52 on May 15 at 1:57 p.m. turned his 1998 Chrysler Concorde left onto Wawaset Road, into the path of a southbound 2008 Ford Crown Victoria, police said.  No injuries were reported, but the Chrysler's driver, Christopher W. Bopp, was cited for failing to yield the right of way to a vehicle approaching from the opposite direction.
State police said they responded to a May 23 crash on Lenape Road at Rt. 926 in Pennsbury Township at 3:28 p.m.  A 2005 Jeep Grand Cherokee had to stop suddenly on northbound Lenape Road when a vehicle turned in front of it, causing a 2004 Dodge Neon to hit it from behind, police said. Karley L. Dowdy, 20, of Landenberg, the driver of the Neon, was not injured but was cited for following too closely; Kellie S. Murphy, 47, the Jeep's driver, was cited for failing to remain at the scene, police said