Packed house for town hall meeting, residents learn about local policing
By Mike McGann, Editor, The Times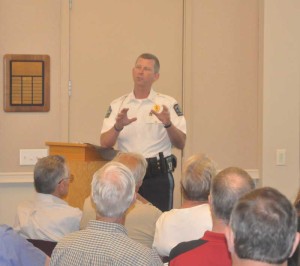 In addition to talks and a question & answer session and some one-on-one face time for residents with many of the uniformed department members, the township police unveiled their new Website and offered demonstrations of the use of various pieces of police equipment.
Chief of Police Gerald Simpson expressed appreciation for how many township residents came out on a stormy evening to learn more about the police and share their opinions.
"I think this is reflective of the people of this township," he said. "Tonight showed that they care and are involved in their community."
In addition to broader discussions about the the 11-member force, two guest speakers addressed issues impacting the local community.
Sgt. Hugh Ferrill Jr., an officer with the University of Delaware Police (and a former New Castle County police officer — who spent eight years as that department's gang investigator) discussed local gang activity in Chester County, which appears to range from the southern portion of the county up into Coatesville.
Ferrill detailed signs that residents can be on the lookout for gang activity, in a detailed presentation on the various subgroups of the Surenos — the most prevalent gang organization in southern Chester County. While Ferrill said typically gang violence is targeted toward other gang members, other crime, including burglary and theft, have the largest impact on residents.
He also addressed recruitment of youth — with local police from the township, as well as Kennett Square and Kennett Township working closely with officials from the Kennett Consolidated School District (Superintendent of Schools Dr. Barry Tomasetti was among the attendees, Thursday night), to intervene, sometimes as early as elementary school to work to keep kids out of gangs.
Also speaking was Andy Rumford, the Kennett Square man whose 23-year-old daughter Kacie died in March of a heroin overdose, and has since led a a campaign, Kacies Cause, to inform the community of the increasing dangers of the drug in suburban areas.
Kacies Cause has grown to more than 60 individuals, Rumford said, all working to alert parents to the dangers of heroin — among the least expensive street drugs now — and what signs to look for in their children.
After those two talks, Simpson spent a little time talking about his department and how it interacts with the community, stressing that to be truly effective, it needs help and support from the community at large.
He walked the audience through the current staffing, noting the department uses two patrols of four officers each, with overlapping shifts, to cover the township between 6 a.m. and 2 a.m. The remaining four hours a day are covered by State Police.
That issue prompted a number of questions from the audience, noting that State Police response is often much slower than that of the township police — Simpson noted the average response time is six minutes for township police — and that criminals might see the gap in coverage as an opportunity.
Simpson said he supported the idea of 24-hour coverage, but allowed that cost is a factor.
"I am a fan and a proponent of 24-hour coverage," he said.
Discussions on the subject are intensifying in the township, and the Board of Supervisors will be holding a special public meeting on the subject this coming Wednesday at 6 p.m. to discuss the issue in greater detail.
Simpson also unveiled the new police website, which offers a number of new interactive features and ways for residents to connect with local police. The site contains content about the department's history, as well as current call and crime data. One new feature that drew a lot of attention was an interactive incident map that shows the location of various criminal activities on a monthly basis, along with thumbnail descriptions of the event.