By centralizing finances, would simply new Title IX reporting requirements for UHS sports clubs
By Mike McGann, Editor, The Times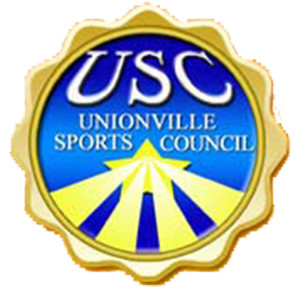 EAST MARLBOROUGH — With changing requirements under Title IX meaning increased reporting by school districts on the contributions of athletic booster organizations, the Unionville Sports Council is seeking to reinvent itself as an umbrella body for Unionville High School's 21 sports booster organizations.
Although the previous mission of the USC had been to raise money to help pay for facilities — most recently USC agreed to underwrite the cost of the new entryway for the football stadium — now, USC president Joe Carney is outlining a new function for the group: streamlining the finances of the various groups to allow for easier Title IX reporting for the district.
Carney went over the basics of the new vision for the group — what he termed "USC 2.0" during last Monday night's work session. he is expected to make a detailed presentation this coming Monday night at Board of Education meeting at Pocopson Elementary School.
Of the 21 booster clubs at the high school, seven have already agreed to join up with USC, including football and boys and girls lacrosse, boys and girls soccer and boys and girls basketball. Talks are ongoing with the other organizations.
Some of the advantages, Carney noted, were that as a 501C3 organization, donations to booster clubs under the USC umbrella would be tax-deductible charitable donations.
By joining up, none of the clubs would lose their autonomy when it comes to fundraising and spending — each team club would still determine how their funds are spent, Carney stressed. Each sport club would get a seat on USC's board of directors, as well.
By standardizing accounting principles, it should make mandatory reporting — starting with the 2013-14 school year — less complicated for the school district, Carney said. But, he noted, regardless of whether the booster clubs join USC or not, the information will have to be reported, via the school district to the state.
As part of its new makeover, USC expects to launch an all-new Website next week, highlighting its new mission. In addition to coordinating financial reporting, Carney said USC expects to provide financial grants for athletics in the Unionville community, whether it be at the high school, middle school or elementary school level.
In other sports-related school news, the new scoreboard for the high school football field is expected to be installed by late June — and it will have its first advertising sponsor: Horizon Services, the heating, air conditioning and plumbing company. The company agreed to pay out $15,000 over three years to be the primary sponsor of the stadium scoreboard as well as the scoreboard in the new gym, covering most of the cost of the new $20,000 scoreboard.
The district will continue to look for associate sponsors for the remaining two ad slots on the board — with the goal of covering or exceeding the cost of the scoreboard.
Work on the new scoreboard is expected to begin in mid-June.