Proceeds from Garden Club's event will benefit area beautification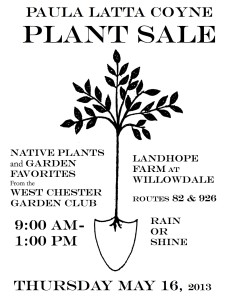 Cardinal flower, iris, salvia, sedum, columbine, ginger, butterfly weed and many more floral varieties will be available at the West Chester Garden Club's Third Annual Plant Sale on Thursday.
Held from 9 a.m. to 1 p.m. at the Landhope Farms market in Willowdale, this year's sale honors the late Paula Latta Coyne, a renowned environmentalist, horticulturist, and horsewoman – as well as former Garden Club president.
Coyne not only shared her extensive knowledge of plants native to Chester County, but she also strongly advocated the preservation of open space, often working with organizations such as the Brandywine Conservancy and Brandywine Valley Association. She was a former director of Safety, Agriculture, Villages and Environment (S.A.V.E.), a group committed to preserving the character of southern Chester County.
The Paula Latta Coyne Plant Sale will offer a choice selection of native perennials and favorite plants from the gardens of the West Chester Garden Club. Organizers suggest bringing a box or basket to select locally-grown plants for attracting birds, butterflies and beneficial insects. An assortment of handmade garden troughs will be available either planted, or ready for personal selections.
Proceeds from the sale will help fund the club's community projects, including the native plant bed at the Brandywine Valley Association, a cloistered visiting garden at Chester County Hospital, and a newly proposed rain garden in East Goshen Township.
The event will be held rain or shine at Landhope, located at the intersection of Routes 82 and 926.