Energy Independence Day Festival expanding – along with Mogreena Garden Project
By Kathleen Brady Shea, Managing Editor, The Times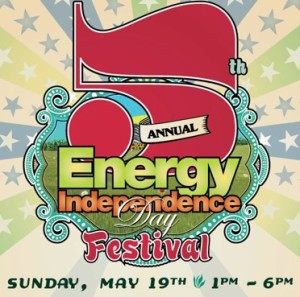 The creative folks in Modena who turned recycling into a successful business venture have taken the same approach to celebrations: Expand and innovate.
On Sunday, Waste Oil Recyclers will host its Fifth Annual Energy Independence Day Festival at its four-acre complex in the borough from 1 to 6 p.m. Last year, a couple hundred people strolled around the complex, sampling food, enjoying live music, learning about community offerings, and participating in a host of family-friendly activities. And like Waste Oil Recyclers, the festival keeps growing.
In keeping with that proliferation theme, the Mogreena Garden Project will debut, said Brenda McNeil, a company spokeswoman.  McNeil said the company has expanded its existing gardens in cooperation with the Chester County Food Bank, Coatesville Youth Initiative, the Modena community, and local volunteers.
With about 20 raised beds and some other new additions, Waste Oil Recyclers hopes to produce five times more organic fruits and vegetables this year. "The plan is to get the food to those in need and also incorporate an educational program here on site to teach people how to easily prepare the harvested crops," said McNeil.
McNeil said the festival – its founding sponsor is Organic Mechanics Soil, a peat-free potting soil business that shares space with Waste Oil Recyclers – will showcase Josh Komorowski and the Sons of Thunder,  Hellsaddle, and some surprise musical guests. Children's activities will include a game area, a professional face-painter,  planting table, painting projects, and a scavenger hunt. Winners who complete the latter, which will be ongoing, will get a ticket for a free food item, McNeil said.
Adults won't be left out.  Beer tastings will be available courtesy of Downingtown's Victory Brewing Company, and organizers expect 20 to 30 vendors who share the company's interest in environmental pursuits to have displays. Another new addition to the festival: the "Men of MoGreena" bachelor auction. The company's web site offers this tantalizing tidbit: "Ladies, you know we have some eligible bachelors … more info coming soon!"
McNeil said the information was sketchy because the idea, generated about two weeks ago, is still in its infancy. Up for bid will be dates with at least four bachelors: Rob Mastrippolito and Jim Bricker, two of the company's owners; and two employees, she said, adding that others may join the lineup. Proceeds  will benefit the Mogreena project and the Chester County Food Bank. Mastrippolito envisions a night of bowling and pizza while Bricker has planned an outing that involves "floating on the Brandywine with champagne," McNeil said.
Whether you're planning to watch a demo on home-canning, survey a furniture-maker's recycled wares, ogle the eligible hunks, or listen to bands –  likely to include some of the multi-talented Waste Oil Recyclers musicians –  McNeil recommends bringing a blanket or chairs to sit and enjoy the crowds and entertainment.
Waste Oil Recyclers began in 2006 when Bricker,  Mastrippolito, and Brendan Steer  combined a commitment to combating the country's energy crisis with some business acumen. Bricker had converted a diesel Mercedes into a "grease car," paving the way for what would become Waste Oil Recyclers. After processing 10,000 gallons of used cooking oil its first year, the company now can collect that much in a day – from more than 2,000 businesses, including hospitals, stadiums, and restaurants.
The company is located at 6 Union St., Modena, 19358. For more information on the Mogreena project, visit https://www.facebook.com/pages/Mogreena-Garden-Project/102566076606079?ref=hl.