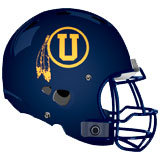 EAST MARLBOROUGH — Registration is now open for a youth football camp for students entering grades two through nine interested in either improving their existing skills or learning more about the game.
The camp will run June 17 through June 21 at Unionville High School under direction of the Unionville High School football coaches and current and former UHS football players.
Campers will enjoy a week of fun-filled football skills, drills, competitions, and games that will help every camper to become a better player and teammate. This camp offers a non-contact, fun and high-tempo experience, organized by grade. The camp features an excellent camper-to-staff ratio and a certified athletic trainer is present for the entire camp.
For more information click here to download the registration form.