'Night & Day' features Chester County debut of Sunrise Mass at Unionville High School show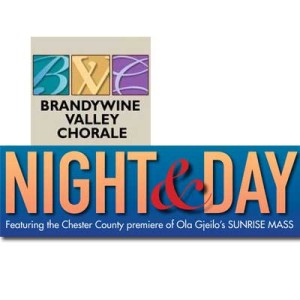 EAST MARLBOROUGH — In its sixth season, The Brandywine Valley Chorale (BVC) with the Unionville High School Chorale, presents Night & Day, featuring the Chester County Premiere of Ola Gjeilo's SUNRISE MASS.
Led by Artistic Director Jason Throne, the BVC's Spring Concert will be performed on Friday, May 3 at 7:30 p.m. at Unionville High School Auditorium.
Featuring choral music depicting the themes of "Night and Day," this concert marks the Chester County Premiere of Ola Gjeilo's Sunrise Mass and features a marvelous arrangement of Tonight from West Side Story; Morton Lauridsen's Sure on This Shining Night and Brahms' O Schöne Nacht. Joining BVC is the Unionville High School Chorale, professional string players and a select group from the Unionville High School Orchestra.
"Gjielo's SUNRISE MASS is a spiritually-uplifting symphonic work. The musical journey will take the audience from sunrise to twilight –  it is sure to be a unique experience for both the performers and audience," Throne said.
Tickets are $15 for adults, $10 for students, and are available online and at the door.  To purchase tickets, please visit www.thebvc.org.
The Brandywine Valley Chorale is a 45-member auditioned chorus founded in 2007 by a group of musicians, arts supporters and friends in the Unionville area and surrounding communities.   Founder and Artistic Director, Throne, received his Masters in Choral Conducting at Temple University and has worked with renowned conductors including Robert Page, Joseph Flummerfelt, Vance George, Marvin Hamlisch, John Rutter and David Zinman. He is Choral Director at Unionville High School.
The Unionville High School Chorale is a 40-member, auditioned mixed vocal ensemble led by Throne. The Chorale was given the distinction of being selected to perform for the Pennsylvania Music Educators Association's Annual Conference in April of this year.