Sportswriter to discuss new book on game-changing 1985 upset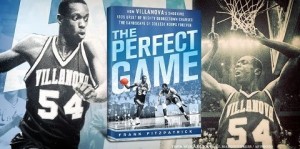 Relive Villanova's shocking 1985 upset of Georgetown, a game that changed the landscape of college hoops forever, through the eyes of veteran sportswriter Frank Fitzpatrick.
The Chester County Library and District Center in Exton will host Fitzpatrick on Tuesday, April 2, from 7 to 8:30 p.m. in the Struble Room, where he will lead a discussion on his new book, The Perfect Game.
Books will also be available for purchase and author-signing. The program is free and open to the public, but registration is encouraged.  Go to www.ccls.org and click on "Find an Event" and view the calendar to register for this program or contact the program coordinator at jbauer@ccls.org
The mission of the Chester County Library is to provide informational, educational and cultural services to the residents of Chester County and member libraries so that they may be lifelong learners. Chester County Library is located at 450 Exton Square Parkway, Exton, 19341. Visit the web site listed above or call 610-280-2600 for more information.