Partners with Concordville Subaru on 'Share The Love' event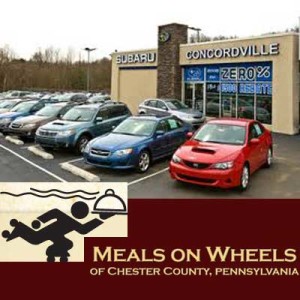 WEST CHESTER – Meals On Wheels of Chester County was awarded a $2,500 grant from the Meals On Wheels Association of America (MOWAA) after working with a local car dealership, Concordville Subaru in Chadds Ford.
As part of MOWAA's participation in the Subaru of America "Share the Love" event, Meals On Wheels of Chester County worked with Concordville Subaru during the 2012 holiday season to generate public awareness about senior hunger and our local Meals On Wheels program.
"This grant comes at a crucial time when we are seeing a significant increase in the number of homebound seniors who need our services and are unable to make a contribution towards the cost of their meals.  All of these funds will be used to pay for the hot, nourishing lunches that our volunteers deliver to these individuals," said Jeani Purcell, Director, Meals On Wheels of Chester County.
As one of the five Subaru "Share the Love" event charitable partners, MOWAA created the "Share the Love" grant program to foster partnerships between local Meals On Wheels programs and Subaru dealerships. MOWAA is awarding $200,000 in grants to 66 Meals On Wheels programs across the country that involved dealership employees in their efforts to serve homebound seniors in their community.
"We greatly appreciate Subaru's fifth consecutive year of commitment to Meals On Wheels through its 'Share the Love' event," said Ellie Hollander, incoming MOWAA President and CEO.  "We also owe a sincere debt of gratitude to the Subaru purchasers who generously selected Meals On Wheels as their beneficiary.  As a result, our programs can purchase food and equipment to provide more nutritious meals to hungry, homebound seniors in the local communities in which Subaru employees and customers live and do business.  Having that kind of social impact is enormous and speaks volumes about the company's commitment to 'sharing the love.'"