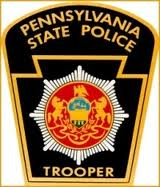 His partner was treated, released on Friday
After a stay of more than three days, the second of two Avondale state troopers involved in a fiery crash on Friday was released from the hospital.
Trooper Aaron Dykes, who also serves as the running backs' coach for the Unionville High football team, left Christiana Hospital on Monday, where he had been listed in stable condition. Trooper Michael Hall was treated and released on Friday.
Trooper Corey Monthei, a barracks spokesman, said the crash occurred Friday at 5:30 a.m. on Rt. 796, a quarter-mile south of Kelton Road in Penn Township. The two troopers were traveling southbound on Rt. 796 in a marked vehicle after receiving a report of a burglary in progress.
While negotiating a curve, the vehicle left the roadway, struck a large tree head-on and burst into flames, Monthei said. He said police later learned that the 9-1-1 call about a burglary-in-progress was placed by an elderly woman who was confused and may be suffering from dementia.
Monthei said other troopers responding to the same incident used fire extinguishers and buckets from neighboring homes to put out the flames. Fire and rescue crews removed the vehicle's roof to extricate Dykes and Hall, he said, adding that passing motorists also stopped to assist.