United Way of Southern Chester County to raise funds with chocolate competition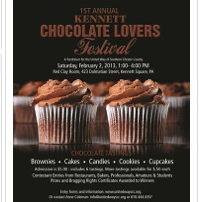 Chocoholics rejoice: The First Annual Chocolate Lovers Festival will be held Saturday from 1 to 4 p.m.
A fund-raiser for the United Way of Southern Chester County, the festival will sweeten Kennett Square's Red Clay Room, where professional and amateur chefs will compete for prizes and bragging rights to be dubbed "the best of southern Chester County."
A $5 admission fee will enable the public to sample the array of offerings, which will include brownies, cakes, candies, cookies and cupcakes. Advance tickets will be sold online until 3 p.m. Friday. In addition, vendors will be selling their wares for Valentine's Day shoppers.
Professional entrants who are donating at least 200 tastings of their desserts include The Gables at Chadds Ford, Sweet Christine's Bakery, Catherine's Restaurant, Talula's Table, Byrsa Bistro, Southpaw Shop, Neuchatel Chocolates, Just Desserts Cafe, McCallister's Blue Ribbon Cookies, Christine Fetters, Whole Foods Market Glen Mills, Renaissance Chocolate, Lisa Roark, Lisa Hunter, and Giant Food Stores Bakery.
The Red Clay Room is located at 421 Dalmatian Street, Kennett Square. For more information, visit http://www.unitedwayscc.org.