Township needs volunteers for recreation, historic and other boards
By Liz Brown, Staff Writer, The Times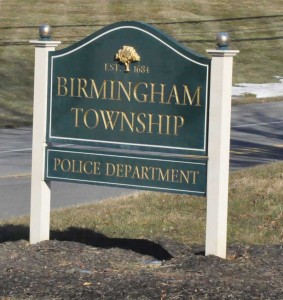 BIRMINGHAM — State protocols were followed at the first meeting of the Township Supervisors in 2013, which requires the nomination and confirmation of organizational positions for the coming year.  All three supervisors were reconfirmed in their positions: John Conklin as Chairman, William Kirkpatrick as Vice-Chairman and Scott Boorse as Supervisor.
Quina Nelling will continue as Secretary/Treasurer, Thomas Nelling as Police Chief and Gail Ayers as Office Assistant.  Scott Boorse was also appointed as Police Commissioner.  Nancy Bush will remain Tax Collector.
Volunteer committee positions were also confirmed or appointed; however, several vacancies remain on some key committees.  Positions of note are on the Historic Commission, the Historical Architectural Review Board, and the Recreation, Park and Open Space Committee.
The Historic Commission meets monthly and members serve a five-year term. Members make recommendations to the Board relative to renovations to historical structures, historical districts, grants for various renovations, surveys of historical structures, and help to preserve the historical heritage of the community.
The Historic Architectural Review Board (HARB) reviews applications by residents in the historic district to make external structural changes to their dwelling.  HARB meets only when an application is received and makes recommendations to the supervisors regarding each application.
The Recreation, Park and Open Space (RPOS) Commission has one vacancy, due to the sudden and tragic passing in December of one of its members, Jim Phreaner. Chairman Michael Langer expressed deep sadness at the loss of this devoted community member and friend.
He went on to describe the responsibilities of the commission to include "managing the Sandy Hollow and Birmingham Hill parks," and being "actively engaged in looking toward improving open space in the township." RPOS meets once a month and members are appointed for a five-year term.
Anyone interested in participating in their community and would like to become part of these committees should contact the Township at 610-793-2600.
Other items of note from the first meeting of the year include some anecdotal observations by the Police Chief, Tom Nelling.  Traffic incidents involving deer are down from last year, and in fact there were no incidents to report in the month of December, 2012.  Also, of the 92 total arrests in the year 2012, only 27 were for DUI which is also a decrease from years past.
The supervisors will meet once a month in 2013, on the first Monday of the month.