Township will consider ban similar to law enacted recently in Pocopson
By Mike McGann, Editor, The Times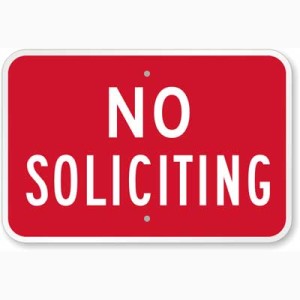 EAST MARLBOROUGH — Township supervisors appear ready to consider a proposed ordinance that would ban virtually commercial door-to-door soliciting in the township next month.
The ordinance, which has been in the works for some months, initially sought to register solicitors after a number of resident complaints about issues with solicitors, including some in 55-and-over communities.
Instead, in part because of concerns about administrating such registration, township officials are looking to adopt a measure closely resembling a similar ordinance recently adopted in Pocopson that bans commercial soliciting entirely.
Board of Supervisors chair Cuyler Walker said he drafted a revised version of the ordinance — looking closely at the Pocopson ordinance — although it has been reworked to better suit the township's needs. As with that measure, political, civic and religious groups would be exempted.
"I've never spoken to a township resident who said it was desirable to have door-to-door soliciting," Walker said.
The ordinance is expected to come up for a public hearing next month.
In other township news, township officials debated how best to proceed with a potential application to convert an existing quilt store in Unionville Village into an ice cream shop.
The primary question revolved around whether the new shop planned to be run by Jerry Brown qualifies as a food store or a restaurant. If the former, it would be considered a "use by right," the latter would require a conditional use hearing by the Board of Supervisors.
The proposal calls for ice cream counter service as well as seating for 12 to 14 people. Ice cream would come from Woodside Farms in Newark, Del.
Walker expressed some concerns that neighbors might ultimately have some objections and might question if the shop were granted "use by right" status, when it was clear even members of the board were unclear whether or not the shop would qualify as a store. By having a conditional use hearing, as was done with the Brusters — now since closed — on U.S.-1, there could be no question as whether the proper procedures were used. The Brusters' application was more evidently a restaurant, as it served a selection of hot foods in addition to ice cream.
Township solicitor Frone Crawford will further research the matter and offer an opinion later this year, he said.