Female inmate sued former correctional officer, county, and warden
By Kathleen Brady Shea, Managing Editor, The Times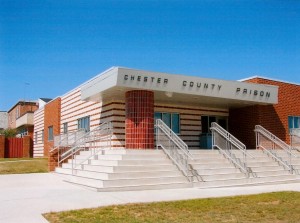 A case involving an admitted sexual infraction by a longtime Chester County Prison correctional officer – an offense that cost him his job – has generated a federal lawsuit and raised new questions about what happened in a prison basement.
When county detectives first asked Beverly Minton, 37, of Graterford, about her relationship with former Cpl. Dale S. Guyer, 49, of West Brandywine Township, she denied anything inappropriate.
Guyer had raised the suspicions of prison officials when he changed his assignment without authorization, and he was terminated on Jan. 4, 2011, court records said. By then, he was living with Minton, who had just been released from Chester County Prison on Dec. 7, 2010, records said.
In April 2011, Minton, who had been jailed for a probation violation, contacted authorities and told them consensual sex occurred, Guyer's criminal complaint said. Guyer was charged in July with institutional sexual assault and harassment; Minton showed investigators threatening, unsigned letters she said Guyer wrote when she tried to end the affair, the complaint said.
But Guyer, who was represented by West Chester attorney Joseph P. Green Jr., said he tried to break off the relationship in January and "Minton urged him to continue." The complaint said he admitted to detectives that he had authored a letter that said: "The door is open for you and me again …I still love you."
Before Guyer's sentencing in December, Minton, who is represented by Philadelphia attorney Alan E. Denenberg, sued Chester County, Chester County Prison Warden D. Edward McFadden, and Guyer, alleging that she was forced twice to have "unwanted sexual intercourse" with the married correctional officer in a basement at the prison in October 2010.
The lawsuit prompted Green to question the credibility of Minton's civil-rights claims. In a pre-sentence memorandum he referenced her accusations, which are "premised on false allegations and demonstrate her true intent all along; to get over on Dale Guyer and the Chester County Prison system." He argued that Guyer, a longtime volunteer firefighter, "suffers from serious mental-health impairments" and regrets his conduct.
After pleading guilty to the criminal charges, Guyer received three years' probation in December, court records said. Prosecutors had sought a one- to two-year jail term, arguing that Guyer "continue to harass, threaten, and intimidate Ms. Minton far after she was paroled…"
Minton's lawsuit alleges that McFadden and other officials knew Guyer had engaged in similar conduct with others, failed to train the staff properly, and condoned such behavior, the suit said. She is seeking $150,000 for "emotional and psychological injuries," some of which may be permanent, the suit said.
A response filed late last month by Guy A. Donatelli, the attorney representing the county, denied the allegations. Donatelli called Minton a "willing participant" who engaged in efforts to conceal her sexual relationship with Guyer.
Donatelli cited a letter Minton sent to a fellow inmate after her release in December 2010 in which she bragged about having sex with Guyer. "Needless to say, we had a GREAT time together and who knows what the future holds," the letter allegedly said. "I'll probably soon be saying 'it was fun while it lasted.' "
The lawsuit called Guyer's sexual assault on Minton  "conscience shocking," and "was so malicious, intentional and reckless" that punitive damages are warranted. It accused the prison of maintaining an atmosphere in which such conduct occurred by employees "without fear of punishment."
Donatelli's response cited the extensive training that correctional officers receive, which includes the directive that a sexual relationship with an inmate is never consensual under any circumstances.
Contacted Thursday, McFadden said that he could not comment because the litigation is pending. However, when Guyer was sentenced last month, the warden released a statement.
"As warden, I have never, and will never accept this type of behavior by any of my employees," the statement said. "The moment we began to uncover information involving this individual, he was immediately terminated and turned over to the county detectives for further investigation."
The federal case has been assigned to U.S. District Judge William Yohn.