Give Kids A Smile program helps local children
By Dr. Stephanie McGann, DMD, FAGD, Columnist, The Times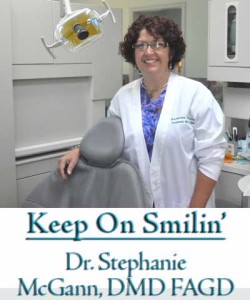 'Tis the season to be jolly, it is for most of us, but not if you're a child with a toothache.
Last week, I donated an afternoon of my time to Give Kids a Smile. This program pairs volunteer dentists and staff with children in need of basic dental care.  10 years ago, the program started as a single day in February. Today, it's going on all year long in offices and clinics across the country. This year the American Dental Association estimates that more than 450,000 children will have received dental services and more than 40,000 dentists and their staffs have volunteered their time, expertise and supplies to make it happen.
Right here in Chester County our local dental organization supports Give Kids a Smile in a big way.  In 10 years more than 50 dentists and an equal number of dental team members have provided more than $180,000.00 worth of basic dental care to more than 500 local children. Our local dentists have also contributed dental supplies, and even follow up care after the event. We have partnered with other local organizations to provide fun and educational programs for the children while they wait their turn to be seen.
How does it work? Dates are set at clinics and private offices in our area. We determine the capacity, based on how many children can the facility accommodate during the hours available. Then local social service organizations coordinate with schools and school outreach programs to identify children who have unmet dental needs because of financial  limitations. We see local kids many from right here in Chester County. The children get permission from parents or guardians and then are brought by a school bus to the location.  They are examined and receive dental x-rays. Treatment ranges  from dental cleanings and instructions in home care to fillings, sealants, extractions and even root canal therapy. Children with more significant dental needs than can be met in a single day are often paired with dentists who will continue their care at their own office.
While the kids wait their turn to be seen by a dentist, they participate in activities related to health and safety. Other organizations outside of dentistry have stepped up to help with this aspect of the day. Others have donated prizes and gifts for the kids to bring home. Every child leaves with a toothbrush and a smile.
With so many things going on around the world, it's good to remember so many do so much right here at home. I have been donating time and money to Give Kids a Smile since it's inception 10 years ago. I always come away humbled by the amount of effort our volunteers demonstrate to make sure that every child is cared for. The program will continue to grow as the American Dental Association continues to obtain support from manufacturers who now help supply many of the products and supplies necessary to care for these kids.  More and more local dental organizations are following in the footsteps of the Dental Society of Chester and Delaware County in developing organized Give Kids a Smile Events.
In this festive time of year, I am thankful for the skills and abilities to help bring smiles to others.
Season's Greetings.
Click here to contribute to Give Kids a Smile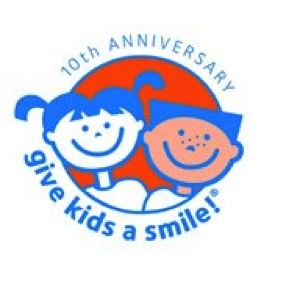 Dr. Stephanie McGann is a resident of the Unionville area and along with her partner, Dr. Marie Scott, operates The Brandywine Smile Center, a family-friendly dental practice in Concordville. She is a Fellow of the Academy of General Dentistry.