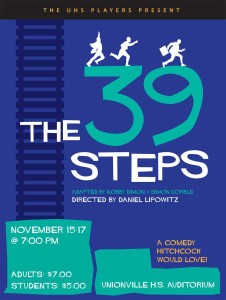 EAST MARLBOROUGH — After receiving the Philadelphia Area Cappies award for best Play last year, the UHS Players are back with The 39 Steps, a Hitchcock-inspired comedy-murder. This production is suitable for all ages.
All shows start at 7 p.m. with tickets $7 for Adults $7 and $5 for students. The show will be presented the new, state of the art Unionville High School auditorium.
About the show: Londoner Richard Hannay, the unsuspecting protagonist, finds himself embroiled in a plot to steal British military secrets led by the enigmatic Scotsman, Blackstone. The plot, nicknamed "The 39 Steps", is divulged to him by a beautiful foreign spy, who promptly gets murdered in his flat. Richard must now travel to Scotland to solve the mystery, while being hunted by police for murder.
On the train north, Richard meets an intriguing but unhelpful woman, Pamela, who is shackled to him for the rest of the story through a series of hilarious events. Fabulous special effects, inventive stage-craft, split-second coming timing, exaggerated accents, a dead milkman, and a submarine all come together to a riotous, unexpected, finale. Stay alert for references to Alfred Hitchcock's movies throughout the show!
You won't want to miss this hilarious performance!