Despite stagnant economy, Kennett Square shows growth with new restaurant opening
By P.J. D'Annunzio, Staff Writer, The Times
KENNETT SQUARE — Though under the threat of rain, patrons still gathered to the newly opened La Verona restaurant on East State Street for its ribbon cutting.
Among those gathered for the event were Borough Manager Brant Kucera, Borough Councilman Leon Spencer, Historic Kennett Square President Ginger Meadows, staff from the office of State Representative Chris Ross, and many others.
La Verona, which serves a variety of cuisine from Northern and Southern Italy, is owned and managed by Ari Mavraj — along with brothers Sam and Jack. Ari is an experienced restaurateur who has been a part of other culinary ventures throughout the Northeast.
"I was raised in Slovenia which is near Northern Italy, the population is very mixed there. I lived and worked in New York, owned two places in New Jersey with a few other partners, then decided to move to Pennsylvania where I knew I could stay for a long time, and finally found this place. We were glad to find this place," Ari Mavraj said.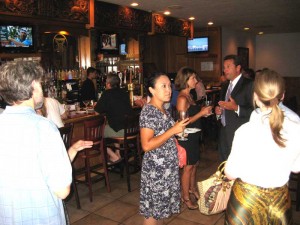 Mavraj went on to describe the quaint nature of Kennett Square as one of the deciding factors for setting up shop.
"When we came to Kennett Square we found the typical nice, old town; the old neighborhood where people lived forever. We felt very comfortable with the atmosphere and the nice people of the town."
The grand opening of La Verona illustrates that despite a less than accommodating economic climate, businesses in Kennett Square still have a chance to thrive in a small town community.
"There's just a lot of reason to celebrate," Borough Councilman Leon Spencer said. "The fact that this town is thriving, the fact that our storefronts are filled, the fact that people want to be here; people in the community want to work to make it what it is and to make it a thriving community. We're tickled pink—we're in the right place, we're glad to live here, and we're glad to be a part of all that goes on."
Borough Manager Brant Kucera added to that sentiment, elaborating on the sustained growth of Kennett Square.
"As the Borough Manager it's really a great experience to manage a town like this because it creates its own success. There are a lot of positives going for it. It makes my life and the staff's life that much easier," he said.
As with many in attendance, Historic Kennett Square President Ginger Meadows views La Verona as a victory for Kennett Square's commerce.
"This is yet another success for the town," she said. "I feel we're headed in the right direction and it's amazing, all the successes we have to celebrate. I think that this is a critical piece of business that was missing and we'll enjoy being a part of their future success. I'm thrilled that it materialized and that we have it now."