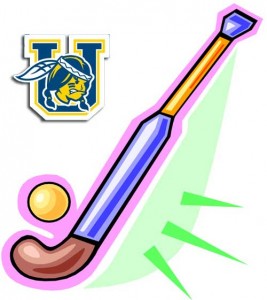 Registration extended through July 22; basketball registration now open
The Unionville Recreation Association's popular field hockey program has extended registration through Sunday, July 22 — and is open to girls in first through sixth grade, with three age-based levels of play.
The program is designed for the girls to have fun, get exercise, practice teamwork and develop their hockey abilities.  In 2011, URA had over 150 girls involved in the program.
The season runs from September 4th through October 27th.  The girls are divided into divisions based on grade level of Fall 2012:
• First-Second Grades….One hour twice a week with games during those times.
• Third-Fourth Graders….One and a half hours of weeknight practice and Saturday morning games
• Fifth-Sixth Graders…..Two and a half hours of weeknight practice and Saturday morning games.
The 1-2 and 3-4 divisions play 6 vs. 6 on a half sized field with no goalie.  Home games are played at the URA baseball/softball complex located on Route 82, approx. 1 mile past Unionville Elementary.  The 5-6 division plays 11 vs. 11 with goalies on a full sized field, similar to that of the middle and high school teams.  Our "home" field is located at Patton Middle School.  In previous seasons, we have been able to "travel" to away locations (no further than 30 minutes) and this will be determined at the end of summer.
League organizers wish to note that practice is a necessary component of learning this sport, developing skills and teamwork and playing hockey safely.  Please recognize that a commitment to practice is important and players must develop a level of safety before coaches can give them the opportunity to play in games.
URA provides t-shirts, balls and goalie equipment for players.  Each player must provie their own stick, shinguards, mouthguard and shorts.  Both shinguards and mouthguards are mandatory!
Volunteering is needed.  Our program is only as successful as the involvement of volunteers allows us to be!  Please consider signing up to help by being a coach, age group commissioner and/or field commissioner.  (We will have a free hockey clinic for those volunteering to coach.)  Contact Becky Baccellieri at baccfam@comcast.net if you are interested in helping.
Registration will close July 23.
Cost: First-Second – $70;  Third-Sixth – $10. Please include your child's grade when registering.
Click here for online registration.
***
Registration for URA's most popular sport — basketball — is now open.
URA Basketball is open to all boys and girls grades K-12.  URA Basketball is a recreational program.  Everyone makes a team, no one gets cut.
Season begins in Mid-November, games will start in early December and will end just prior to Spring Break.
Time commitment is dependent on overall program registrations.  Last season, the boys grades 8-12 programs played games on weeknights and all other programs played games primarily on Saturdays.  Teams also typically practice 1 night per week.  Boys 10-12 grade division plays games only.
This season, due to space limitations, registrations in each division will be limited.  Please register early to reserve your space.
When registering, please verify the division you are registering for and the school grade effective Fall 2012 for your child is accurate!
Click here to immediately register online for the 2012/2013 Season!
Costs: K-1 = $75 per player;  all other grades – $120 per player (registered players after 2 per family are free.
Click here to register for URA basketball