Indians win both games on Sunday led by Schilling
By Dave Conard Sports Editor, UnionvilleTimes.com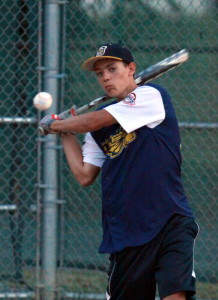 SCHWENKSVILLE–Despite winning their Sunday games by a tally of 25-1, Unionville could not over come the loss suffered on Saturday to Llanerch Hills, as the Indians finished third in their pool, with Towamencin and L-H qualifying for the semi finals with 3-1 records.
An impressive two-way performance from Theron Schilling led the Indians to a 12-0 win Sunday over Tri township, as Schilling again rose to the occasion.
Schilling racked up two RBI on a doublet for the Indians, smashing his second home run in a five run second inning for Unionville.
The Indians' Schilling kept Tri Township off the scoreboard for all four innings he was on the hill, hurling a complete game shutout, allowing no runs on two hits while striking out eight.
Twelve runs in the opening three innings allowed the Indians to easily put away Tri Township.
An error, an RBI single by A Gorgone, a wild pitch, and an error during the first inning and an RBI double by Robbie Schofield, a two-run single by David Mercner, and Schilling's two-run home run in the second inning supplied the early offense for the Indians
Tri Township            0  0  0  0      0  2  4
Unionville            5  5  2  x     12  6  1
Unionville 13, Pennsbury 1
Theron Schilling came up big at the dish and on the hill, leading the Indians to a 13-1 win over Pennsbury on Sunday at Central perk.
Schilling racked up four RBI on a 2-for 3 day at the plate for the Indians. He homered in the second inning and singled in the third inning.
Schilling pitched lights out for the Indians, as he held Pennsbury hit less over two innings, allowing one earned run,  while issuing one base on balls and fanning six Falcons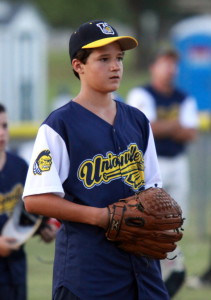 Thirteen runs in the first three innings helped the Indians blow out Pennsbury. A walk by Rourke Dillon, a walk by Robbie Schofield, a two-run double by Jack Adams, an RBI single by David Mercner, and a three-run home run by Schilling during the second inning fueled the Indians' offense early.
The Indians tacked on another five runs in the third. The inning got off to a hot start when Schofield singled, plating A Gorgone and Joey Tuel. That was followed up by Mercner's double, scoring Mark Raffety and Schofield
Unionville             0  8  5  0   13  7  0
Pennsbury            1  0  0  0     1  1  2
Llanerch Hills 6, Unionville 3
One inning would come back to bite the Indians on Sunday, the walk off sixth inning again Llanerch Hills, derailing their chance to advance to Monday's Pennsylvania State finals.
The Indians won the hit battle 9-6 on Saturday, but couldn't push enough runs across to get the win, instead losing 6-3 in six innings to Llanarch hills at Central perk.
Theron Schilling was solid at the plate for the Indians. Schilling went 2-3, drove in one and scored one run. He singled in the second and fifth innings.
Jack Adams brought the heat against Llanarch hills during his outing. Llanarch hills managed just three hits off of Adams, who allowed two earned runs, walked two and struck out five during his five innings of work.
Hoselli got it done on the rubber on the way to a win. He tossed one inning of shutout ball. Hoselli struck out none, walked none and gave up no hits.
Llanarch Hills was sparked by Quintilliemi and Zimmerman, who teamed up for three hits and six RBIs.
Llanarch hills jumped out to an early 2-0 lead in the bottom of the first. A two-run home run by Quintilliemi, scoring Washington started the inning off.
Unionville                     0  1  0  0  2  0   3  9  0
Llanerch Hills                2  0  0  0  0  4   6  6  0