By Denny Dyroff, Staff Writer, The Times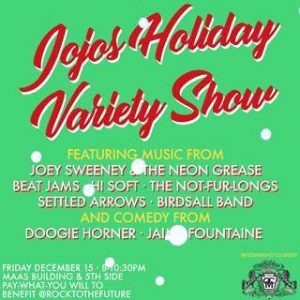 Now that the holiday season has arrived, there are many, many concert options. But, it is also a good time to consider attending a stage production such as a play, a ballet performance or even a modern-day version of the old variety show.
On December 15, Joey Sweeney and a bunch of other artists from around the Delaware Valley will be presenting a modern-day variety show at Maas Building (1325 North Randolph Street, Philadelphia, https://www.facebook.com/events/149475212487812) – and it's being staged for a good cause.
"JoJo's Holiday Variety Show" will feature performances by Joey Sweeney & the Neon Grease, Beat Jams, Hi Soft, The Not-Fur-Longs, The Birdsall Band and Settled Arrows. Also featured will be comedians Doogie Horner and Jaime Fontaine. Additionally, the event will feature a fire pit.
"The show is being staged as a benefit for Rock to the Future," said Sweeney, during a phone interview Thursday from his Philadelphia home.
"Rock to the Future is an after-school music program for Philly kids. We connected with them through the label we used for our holiday EP –The Giving Groove. It's a new Philly label that gives half of all its profits to Philly music charities."
"Smilin' Through" is the new holiday EP from Sweeney. It was just released along with the first single, the original track "Don't Kill Yourself This Christmas."
Sweeney teamed up with The Giving Groove for the sales of the EP (it hits streaming services on 12/15) and they will be donating all proceeds directly to Rock to the Future, a 501(c)3 organization that provides music education for Philadelphia's underserved youth, at no cost to them or their families. Rock to the Future aims to empower individuals and strengthen communities through programs that ignite passion and creativity, support academic achievement, and improve self-esteem.
To raise as much money and awareness for Rock To The Future as possible, and on top of sales of the EP, Joey Sweeney and The Giving Groove are also giving folks other fun-tiered options on their website to raise additional money. $20 gets you admission for two to Joey Sweeney & The Neon Grease's holiday variety show on December 15 at the MAAS Building in Philadelphia, $100 will bring Sweeney directly to your door to personally serenade you with Christmas carols on December 20th (metro Philly only), and for $500, the band will do a house show at your place anywhere within 60 miles of Philly in January or February.
"Don't Kill Yourself This Christmas" is a Sweeney original that confronts Seasonal Affective Disorder head-on while channeling Jimmy Stewart, The Waitresses and of course, The Boss. The EP also includes covers of two holiday classics, "Smiling Thru" (a nearly 100-year-old Tin Pan Alley classic made famous by Bing Crosby and Judy Garland), rendered here with sleigh bells, of course, as well as smoldering saxophone, grand piano, and guest harp by Jesse Sparhawk. Rounding out the EP is the traditional New Year's classic "Auld Lang Syne," done up here as a raucous homage to the Mekons, the Pogues and other people who like to imbibe around the holidays.
"We did the EP immediately after recording a new album that we'll release early next year," said Sweeney. "We recorded the album in North Jersey – at the Magic Door Recording in Montclair. It was produced by Ray Ketchem, who is in the band Elk City. We initially tracked some stuff in Philly and then did the rest with him in New Jersey. The album will come out in late winter or early spring. It depends on how long it takes to get the vinyl pressed."
Sweeney's immediate focus is on his holiday show this weekend.
"The show has a shared stage setup," said Sweeney. "We run it like a TV variety show as much as we can. It's a 90-minute show and everybody does two or three songs.
"Admission to the show is 'pay-what-you-can' but the suggested donation is $10. All the acts are donating their time. It should be a great show."
Video link for Joey Sweeney – https://www.facebook.com/veryrealjoeysweeney/videos/961534774000551.
The show at the Maas Building will start at 8 p.m. Suggested donation for admission is $10.
Every year when the Christmas season arrives, The Candlelight Theater (2208 Millers Road, Arden, Delaware, 302- 475-2313, www.candlelighttheatredelaware.org) presents either an original holiday production or a staging of a non-holiday family classis.
This year, it's the latter.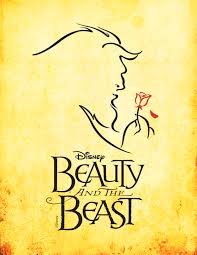 Now through December 23, The Candlelight is presenting the timeless classic "Disney Beauty and the Beast." The role of the Beast is played by Justin Moore, a veteran of European opera, while Belle is portrayed by Natalie Schaffer.
If you took a poll of young girls and asked them to name their favorite heroine, no doubt the overwhelming majority would say "Belle" from "Beauty and the Beast."
"The first show I ever saw was 'Beauty and the Beast'," said Schaffer, during a phone interview Tuesday afternoon. "I saw it on Broadway with my mom when I was seven years old. That was the show that really got me interested in doing theater.
Schaffer grew up in Bucks County and graduated form Council Rock South High School. She studied in the theater program at Wagner College in Staten Island, New York and graduated in May.
"I got into theater really young," said Schaffer. "I always liked to sing. For my eighth birthday, I saw 'Aida' on Broadway. That's when I said – 'Mom, I want to be on Broadway.'
"I took dances classes all my childhood and got into theater in high school. My first part in high school was Dorothy in 'Wizard of Oz.' We had a really good theater program at Council Rick South."
"Beauty and the Beast" is a traditional fairy tale that originated in France several centuries ago. In 1991, Disney produced "Beauty and the Beast" as a musical animated film. It won Academy Awards for "Best Song" and "Best Original Score" and was the first animated film to be nominated for an Academy Award for "Best Picture."
A few years later, the score was expanded and the story was transformed into a stage production. "Beauty and the Beast" opened on Broadway in April 1994 and a year later was a Tony Award winner.
Schaffer had no trouble stepping into the role of Belle.
"I like the fact that from Day One, Belle had a mind of her own," said Shaffer, who has also performed in stage productions of "Anything Goes," Phantom of the Opera," and "Titanic."
"She wants to experience everything she can out of life. She never gives up. She always strives for something better.
"There are some challenges to playing Belle. She is so brave in every way and part of that comes out as open vulnerability. The challenge is trying to get both sides of that."
"Beauty and the Beast" has been around for more than a quarter of a century and its popularity has never waned.
"It stays popular because it's a classic story of overcoming the odds," said Schaffer. "Love conquers all. The show just has a magical vibe."
Video link for "Disney Beauty and the Beast" (original movie) – https://youtu.be/MmWBIxbn7Nk
"Disney Beauty and the Beast" is running now through December 23 at the Candlelight Theater. Tickets, which include a tasty buffet dinner, are $63 for adults and $33 for children (ages 4-12).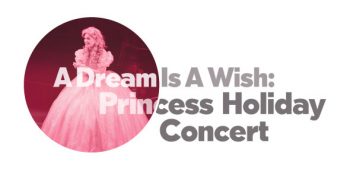 Belle will also be making an appearance at another stage show in the area this weekend. The Philadelphia Theatre Company is presenting everyone's favorite princesses – including Belle — in a heart-warming afternoon concert for the entire family.
Princess Holiday Concert,"A Dream Is A Wish: Holiday Princess Concert" will be performed on December 17 at 3:15 p.m. at the Suzanne Roberts Theatre (480 South Broad Street, Philadelphia, philadelphiatheatrecompany.org).
During "A Dream Is A Wish: Holiday Princess Concert," audiences will sing along with a gathering of princesses from popular movie musicals and television shows in a one-day-only event this Sunday afternoon. Children are encouraged to come dressed as their favorite prince or princess.
In "A Dream Is A Wish: Holiday Princess Concert," Cinderella is planning a holiday celebration for all the wonderful people of the kingdom and all of her princess friends.  The newest and youngest princess, Sofia, became a princess overnight and wishes to be the best princess that she can be. Through meeting Belle, Mulan, Rapunzel, Anna and Elsa, Moana, and Ariel at the party, Sofia learns that each princess has obstacles to overcome and her own path to discover but no matter what, if she's true to herself, she will find her way.
Audiences journey along with Sofia as she learns what "being a princess is all about," and they'll sing along with more than 16 favorites such as "A Dream Is a Wish," "Let It Go," "Reflection," "Part of Your World," "Marshmallow World," "Frosty the Snowman," "It's The Most Wonderful Time of the Year," and "Rudolph the Red Nosed Reindeer."
The producer of the show is Angelo Fraboni, the Artistic Director of Molloy College's Madison Theater.
"We do the show annually at the Madison Theater at Molloy and it's been pretty successful," said Fraboni, during a phone interview last week. "That show is done in April – three shows a day.
"This production in Philadelphia is a hybrid show adding Christmas music. We re-wrote the show to add a holiday theme. It's a 60-minute show geared for kids ages 4-12.
"This is the first time we've taken the show to another theater. Paige Price (Philadelphia Theatre Company's Producing Artistic Director ) called me about a couple shows I'm doing and I recommended this show because it's so popular.
"It helps introduce younger audiences to the theater. And, who doesn't like princesses? The actresses who play the princesses love it because they get mobbed by the kids.
"Heather Sawyer, who plays Mulan, wrote the script for the Christmas show. And, we added a new princess for the Philadelphia show – Sofia from the Disney Channel
Following the show, all the little princesses and princes in attendance will be invited to meet the cast in a special post-show meet-and-greet. Holiday cookies and apple cider will add to the festive afternoon. Attendees are invited to bring their cameras to take photos after the show with the cast. No photos during the show will be allowed.
According to Price, "The Holiday Princess Concert is the perfect way for Philadelphia Theatre Company to be part of early memories for children experiencing live theatre for the first time. PTC has traditionally been the destination for work best enjoyed by teen and adult audiences. We know that the love of live theatre often begins with very young children taken to performances by a family member.
"By combining music, audience interaction and a family-friendly story in a relaxed environment, we hope to light that spark of interest that we know lasts a lifetime with theatre-goers. My hope is that we see generations come out and make theater a new holiday tradition. We want to see grandparents, parents and little ones sharing the magic of theatre together."
Tickets are $35 at philadelphiatheatrecompany.org, at the box-office, or by calling 215-985-0420. This production will be a relaxed performance that welcomes children with autism or sensory or emotional sensitivities.