Editor's Note: Our regular Art Watch Columnist, Lele Galer is taking a well-deserved week off. Filling in for her this week is Caroline Roosevelt, a Chester County resident and experienced arts writer. Lele will return next week.
By Caroline Roosevelt, Special To The Times
The Chester County region experienced an exciting art bloom in June, and as July approaches, galleries and workspaces host their closing receptions until the fall.
In the wake of one of Kennett Square's largest art walks, the Hopper to Homer exhibition at the Brandywine River Museum, the annual exhibition and one of my favorite art parties at Scarlett Thicket Farm, and the installation of a beautiful new Rob Sigafoos sculpture right along State street, July leads us along some art endeavors that encapsulate the more breezy, bucolic aspects of the season.
The juried photograph exhibition, Reflections Thru The Lens at Wayne Arts Center ends on June 30th. I was able to sneak in at the last minute, to scope out the wide range of landscape photography. While I enjoy the rolling hills of the mid atlantic, or large panoramas illustrating the stark contrast of a verdant field and a glowing, fiery sunset, I was most struck by a piece by Laura Ducceschi. "The Pier," features a placid beach scape, encompassing the seaglass and sand palette that comes with the territory. However, the traditionally horizontal composition is interrupted abruptly by a backlit dilapidated pier. The structure, having been  separated into three different sections due to erosion, seemingly crawls out of the sand and starts marching towards the water like a trio of dali-esque stilt animals. The exhibition was juried by John J. Carlano, Independent Commercial Photographer and Adjunct Associate at the University of the Arts.
In honor of what would be Andrew Wyeth's 100th birthday, The Brandywine River Museum is showcasing a selection of his work. Andrew Wyeth: In Retrospect is open now through September 17th and has co-curated by Audrey Lewis (Curator, Brandywine River Museum of Art) and Patricia Junker (the Ann M. Barwick Curator of American Art at the Seattle Art Museum). The show has been curated in chronological order and presents the evolution of the middle Wyeth's trademark autumnal palette and hyper realism. After its summer showing in Chester County, the exhibition will make its way to the Seattle, WA in October.
Moving towards the Kennett Borough, Robert Jackson will be hosting his closing reception at The Creamery on Thursday, June 29th from 5 -7pm. Since the end of May, Jackson has been creating a series of trompe l'oeil mini murals throughout the farmhouse room of The Creamery. Some of his work may go undetected, even to the relatively trained eye (all I have to say is, don't expect any of the outlets in that room to accept your charger). Jackson adds a new voice to the growing artist rolodex hosted by The Creamery. Previously limited to sculpture artists (you can find work by Stan Smokler, Jeff Bell, David Beck, John Rush and Lele Galer throughout the property), Jackson is the first painter featured at The Creamery. Not only does this venue provide a beautiful, rustic local for a variety of artwork, The Creamery also looks to expand to host workshops and classes available to the public (think the Oxbow Farms wreath making workshop during last years' Holiday Village Market!)
Stay on Birch Street and mosey on down to worKS from The Creamery (or vice versa), and scope out their happy hour deals while sipping on a complimentary cocktail. One of Kennett's newest and funkiest gems, worKS, has culled an impressive group of artisans from woodworker Greg Pilotti, and connoisseur of everything that smells amazing (soaps, to candles to incense), Zoet Bathlatier (Ilka Evans), to some more local flavor like Charlie Dog Vintage (for all of your eccentric statement t-shirt needs), and Pam Lau Pottery. After a worKS happy hour, you're guaranteed to go home happy and, perhaps with more than you had anticipated. But that's a good problem, not a bad problem.
Looking for more? Don't forget to check out these offerings and exhibitions.
COOKS
Galer Estate Wine Dinner with Adam Diltz of Johnny Brenda's and Virginia Mitchell of Galer Estate
Cooking class
Thursday, June 29th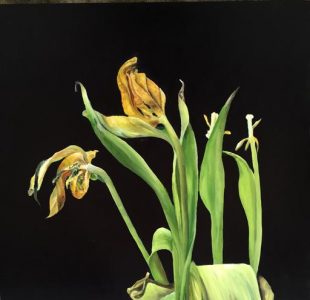 Serge Krupnov: The Insatiable Eye
Ends July 8th
Church St Gallery
West Chester, PA
Gallery Talk – Friday, July 7th 7-9 pm
Nicholas, Anthony and Dennis Santella – "Shared Ground"
Ends July 8th 2017
Street Road Artists Space
Caroline Roosevelt is a writer and artist based in Kennett Square, PA. She received her B.A. in Art History from Connecticut College and a Post Baccalaureate certificate from Pennsylvania Academy of Fine Arts. She has previously written art coverage in Seattle, WA and Philadelphia, PA.